Seven core functions of social work that ensure positive client outcomes
5 min read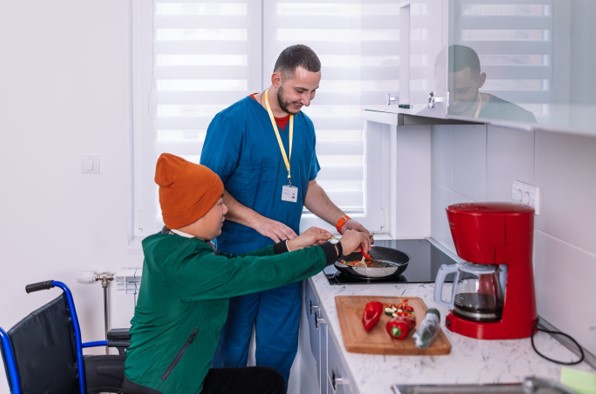 Social workers are trained professionals who aim to improve the lives of people with personal and social problems. They understand human nature and the influences that social, economic, and cultural practices exert on our behavior. Social workers establish contact with their clients, gather evidence, and put a plan in place for their treatment. They monitor the client's progress and finally send their patients out into the world equipped with the necessary skills to build a future for themselves.
Three broad categories of social work
Social work can be divided into three broad categories: the restoration of social function, the prevention of social dysfunction, and the provision of resources. Each of these categories is independent but is also interrelated in some way.
Restoring social function is an endeavor to eliminate environmental factors that negatively affect individuals, organizations, and communities and to rebuild the social structures and interactions that have disintegrated.
Prevention of social dysfunction requires early detection and elimination of any obstructive situations and conditions that may be causing the problem. This preventative approach is crucial to the role of social work in preventing or eliminating social dysfunction at the start. Social workers have an important role to play in ensuring that social systems are satisfactory, fully functional, and available to all.
The provision of resources includes both developmental and educational resources. Developmental resources extend the current human, social and material resources, while educational resources make the public aware of specific conditions.
Social workers can be found in a wide range of settings, including hospitals and clinics, education and research facilities, government departments, prisons, mental health clinics, homes for the elderly, and private practice.
If you have a natural empathy for people and the many issues that they face today, you can make a difference by enrolling in an MSW online program through Cleveland State University, which will teach you how best to serve your community with a Master's degree in Social Work. Through this program, students are prepared to address human needs and issues of social and economic justice. With 100% online coursework and 900 experiential learning hours in your local community, this program is ideal for employed social workers looking to advance in their career.
Seven core functions of social work
The seven core functions of the social work profession, as identified by Popple and Leighninger, enable the social worker to follow a standard procedure when consulting with and providing counseling to a client. The process that is followed ensures a slow, methodical process with expected, positive outcomes. The core functions include:
Engagement
In order to promote a collaborative relationship, social workers must first engage the client in early meetings. This is where the social worker and client begin to build a relationship and where confidence is gained. The social worker explains the process and risks of treatment to the client and obtains their consent.
Assessment
As part of the assessment, data is gathered to guide and direct a plan of action to assist the client. The social worker will gather as much information as possible to assess the needs of the client and the strengths and weaknesses of the case. This step may include a biopsychosocial assessment to determine the social, biological, and psychological factors that are affecting the client.
Planning 
During the planning stage, the social worker and client spend time setting goals and objectives for the treatment. To begin with, the number of expected sessions will be decided upon, breaking the goals down into smaller steps so that progress can be measured. A main goal in the process is to encourage the client to be self-sufficient, whatever that takes. The aim of the social worker is to equip the client with the tools and supplies they need so that they can cope on their own. This can take the form of mental aid, such as psychotherapy, assistance with food or housing, training, and sometimes financial aid.
Implementation and intervention
The goal of implementation and intervention is to promote resource acquisition and enhance the client's role performance. This step in the process will involve the bulk of the counseling and require a variety of techniques and interactions, such as additional work to be done at home or attending group sessions.
Monitoring and evaluation
As part of the monitoring and evaluation phase, the social worker will evaluate the client's progress according to the goals set in the planning phase. If necessary, the goals can be adjusted to ensure a more positive outcome. Careful documentation needs to be done so that the counselor can look back and determine what methods worked in this situation. This information is invaluable for evidence-based methodology in future work.
Supportive counseling
If the progress is positive, this is encouragement enough. However, if progress is slow or additional problems have been identified, the social worker may change tactics and call in various experts in other fields, such as a psychologist who specializes in the particular problem or suggest group counseling.
Graduated disengagement
As part of graduated disengagement, there will be a mutual agreement between the social worker and the client that the counseling has been successful in an ideal situation. The goals will have been attained, and the client will be able to cope without further intervention by the social worker. This does not necessarily mean that the client can now cope on their own without assistance from anyone.
In collaboration with other social services that may be available, the social worker may have arranged a support system in the form of an assisted feeding scheme, an educational facility, regular counseling with a psychologist, group therapy sessions, a medical facility where the client can be treated for illness, a place of safety, and much more. By this stage, the client will have gained some self-confidence and should be strong enough to face their daily challenges.
Conclusion
By following a structured plan, the social worker can administer counseling with confidence, knowing that these methods have been tried and tested. There is room for evaluation, and if performed in a timely fashion, it enables the social worker to change course if something is not working. In addition to the process being a well-documented and disciplined one, in most cases it serves to ensure a successful outcome.