Youth ambassadors train for a future in public health : Shots
6 min read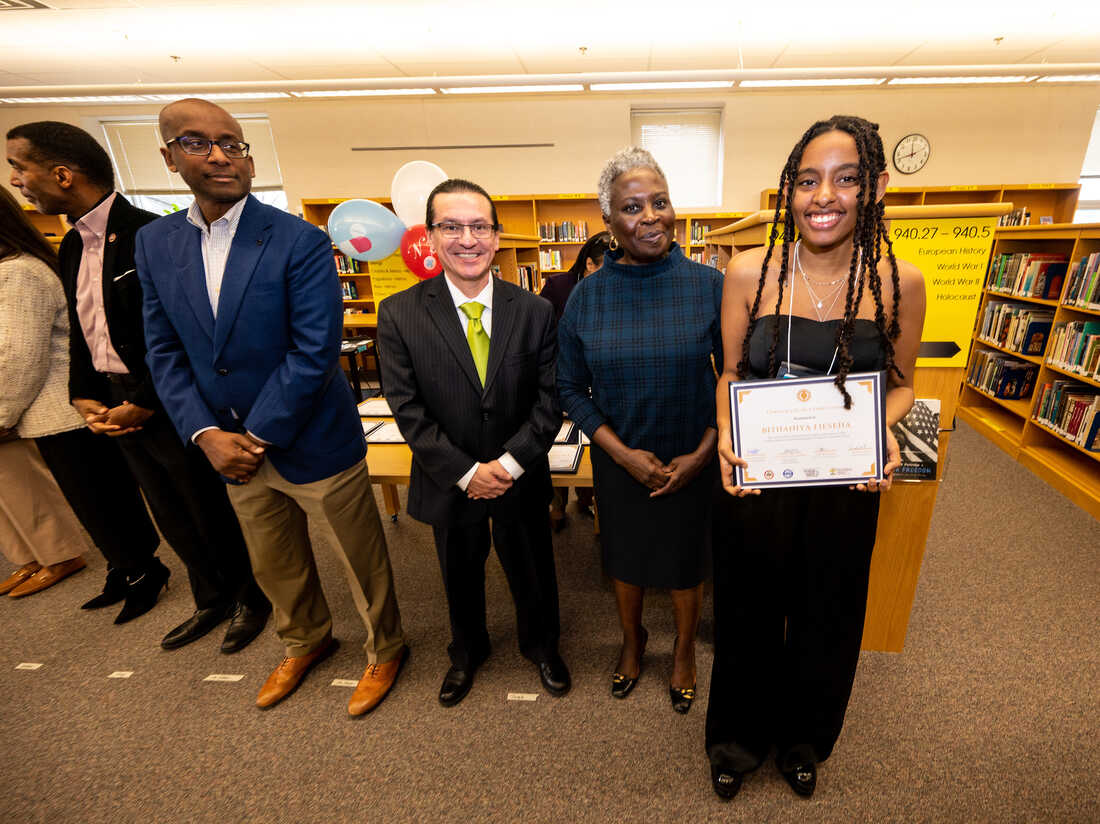 Will Schermerhorn/Fairfax County Health Department
Of all the things she could have done on her summer vacation, Bithaniya Fieseha, a senior at West Springfield High School in Fairfax County, Va., decided to study chronic disease, mental health and contact tracing. Some of her friends didn't understand the appeal.
"I feel like people are like, 'You wasted your summer,' " she says. "But I enjoyed it. I really enjoyed meeting up with everyone, going through the struggle."
She practiced taking temperatures, weight and blood pressure readings on her family. Fieseha topped it off with an internship at a local health clinic.
Her hard work paid off. On a recent Saturday morning, Fieseha became one of 14 high school students to graduate from the Youth Public Health Ambassador program run by the Fairfax County Health Department. It trains teenagers from underserved communities to become health workers and prepares them for potential careers in public health. The coursework was designed by the Morehouse School of Medicine.
"I think this program gives us a voice because, as minorities, we're able to see those disparities" in our own surroundings, says Nayla Bonilla, a junior at Justice High School, "I saw that there were so many different avenues into medicine and things we can do in the future that can help our communities thrive."
The training aims to help shore up the public health workforce, which is in bad shape as the COVID-19 pandemic enters its fourth year. A wave of retirements is expected to further strain health departments over the next few years.
"We need to not only attract people into the fields of healthcare and public health, but we need to attract people of color," says Dr. Gloria Addo-Ayensu, director of the Fairfax County Health Department, "We need people from our Black and Brown communities to engage in the field so they are able to explain to their communities what health is all about."
Will Schermerhorn/Fairfax County Health Department
Training gives teens a leg up on future health careers
The health department is working with Edu-Futuro, a local nonprofit, to recruit students with an interest in medicine from Fairfax high schools and help start their career paths.
"At the end of the day, it's that they successfully enroll in a college or a postsecondary institution, where they will be able to get a degree in a health-related career – and then four years later, they get their first professional job," says Jorge Figueredo, Edu-Futuro's director.
Will Schermerhorn/Fairfax County Health Department
The program focuses on Hispanic, African-American and African students from low-income families. In Fairfax County, as in much of the country, these racial and ethnic minority groups were hardest hit by COVID.
"There were some real challenges around health literacy," says Anthony Mingo, director of community health development at the Fairfax County Health Department. Mixed messages at the start of the pandemic blended with historical mistrust in medical institutions. "It created a miserable stew of misinformation," he says.
Will Schermerhorn/Fairfax County Health Department
The new youth ambassadors are fired up about public health. Fieseha found the links between environment and health illuminating. "If you don't have access to a grocery store, you're more willing to buy [fast food] because that is the closest food source you have, which contributes to diabetes and high blood pressure," she says. "How we access our food, how we make income – we don't realize how much of an impact that makes to our mental health and our physical health."
Learning about some shady episodes from the history of medicine helped Bonilla understand how the medical field lost trust with some groups.
"[The lessons] were talking about the history of ethical considerations, which I really hadn't thought about, like the cancer cells from a patient that were used without their consent," she says, "And it just made me think how minority groups were really taken advantage of for medical research."
Bonilla plans to organize a health fair to address health disparities; she thinks she might become a pediatrician, to better serve Spanish-speaking kids and parents. Fieseha plans to start an urban garden at her school and wants to become a global advocate for HIV/AIDS in Africa and particularly Ethiopia, where her family is from.
Federal funding to boost health literacy
Both are among the first graduates in the pilot program, which expects to have trained ninety students as health workers by next summer. With a budget of around $240,000, according to the health department, it's a small sliver in a two-year, $3.8 million Fairfax County-wide project to improve access to COVID information and boost health literacy among vulnerable groups.
The federal government is providing the funding. Fairfax County is one of 73 local governments to receive a grant under a $250 million initiative from the Department of Health and Human Services last year. Each grantee is trying out its own approaches to improve health understanding in their communities, says Roslyn Holliday Moore, deputy program director for HHS's Office of Minority Health.
Will Schermerhorn/Fairfax County Health Department
The hope is that projects, like Fairfax County's Youth Ambassador training, can be adapted elsewhere. "For those who are looking at whether people are able to trust, sustain the trust, engage others, this is more than successful," Holliday Moore says, "And it's not hard to replicate."
Holliday Moore addresses a small crowd of parents and students gathered at a high school library for a graduation ceremony. "Do not give up, stay the course," she says. "You are creating a future here."
Afterward, there is applause and tears of joy. A Peruvian dance champion performs a traditional dance. An assistant principal sings a line from Bob Marley's Three Little Birds and assures students he isn't worried about a thing — with them at the helm.
After some long, bleak pandemic years, everyone in the room is glad to be celebrating teens getting their start in public health.
Will Schermerhorn/Fairfax County Health Department