Carlos Correa discusses health, fitness routine
63 min read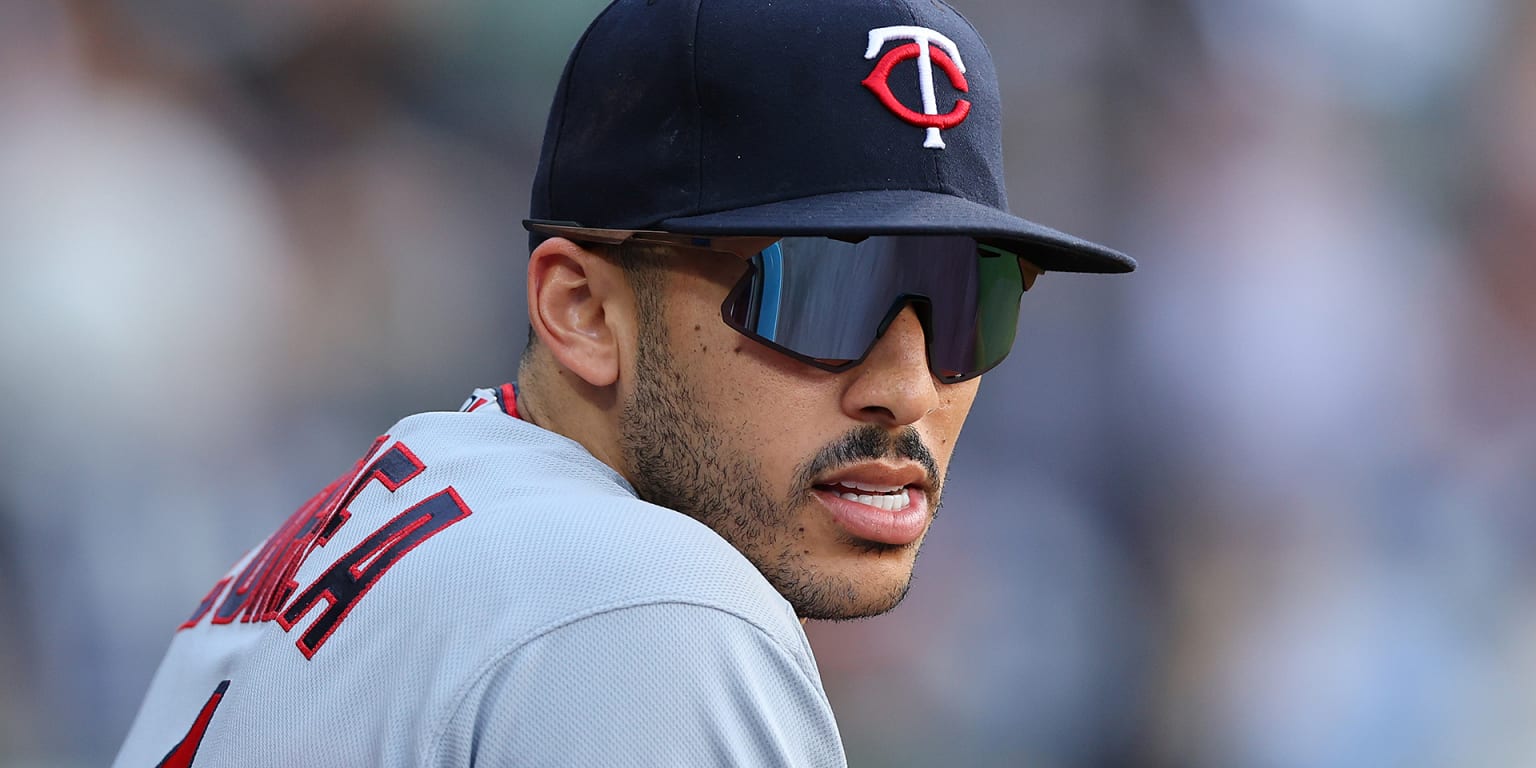 n","providerName":"Twitter","providerUrl":"https://twitter.com","type":"rich","width":550},"type":"oembed"},"__typename":"Markdown","content":"Correa has never spent time on the injured list for an ankle issue as a professional, which leads him to be confident in the routine that emphasizes flexibility and maintenance of his whole body over strength once the season starts.nnDuring the season, Correa works for 40 minutes to an hour every day, he said, including on off-days, with a routine that incorporates work on the chest, shoulders, back, hamstrings, quads and core. He doesn't do heavy lifting at all once the season starts, hoping to avoid the soreness and additional strain on his body.nn"When the season hits, I don't need to get stronger," Correa said. "I just need to be healthy. I just need to post every single day. I'd rather be flexible and not as strong but be able to post for 150 games than be the strongest guy in the league and only be able to play 80 games. It's a good balance that a player's got to have."nnIt hasn't always been that way for him, but his physical priorities have matured as he has also matured as a player and person. Earlier in his career, Correa said he would show up to the cage and immediately take 100-150 full-effort swings without so much as warming up and stretching, which led to unnecessary issues.","type":"markdown","__typename":"Video","contentDate":"2023-02-17T19:24:35.242Z","description":"Carlos Correa talks about his decision to return to the Twins, his mindset going into Spring Training and his goals for the season","displayAsVideoGif":false,"duration":"00:01:29″,"mp4AvcPlayback":"https://mlb-cuts-diamond.mlb.com/FORGE/2023/2023-02/17/4b07c5d2-6bee094c-a055aa78-csvm-diamondx64-asset_1280x720_59_4000K.mp4″,"slug":"carlos-correa-s-spring-mindset","tags":["__typename":"Tag","slug":"teamid-142″,"title":"Minnesota Twins","__typename":"Tag","slug":"playerid-621043″,"title":"Carlos Correa","__typename":"Tag","slug":"spring-training","title":"Spring Training","__typename":"Tag","slug":"grapefruit-league","title":"Grapefruit League","__typename":"Tag","slug":"interview","title":"interview"],"templateUrl":"https://img.mlbstatic.com/mlb-images/image/upload/formatInstructions/mlb/que4y7bx3aseegchhjwn","title":"Carlos Correa's spring mindset","type":"video","url":"/video/carlos-correa-s-spring-mindset","__typename":"Markdown","content":"After starting to communicate more often with doctors, Correa said he took more of an interest in the functionality of his body and the emphasis on mobility and flexibility that required, and he developed his routine accordingly.nn"Learning through experience throughout the entire process, something bad had to happen for me to understand what it takes to post and be healthy," Correa said. "I'm glad I found out when I was 24, 25 years old. It was still early enough for me to be able to make the right and necessary adjustments."nnBeyond that, Correa spoke often about avoiding unnecessary risks and strain on his body during his first season with the Twins, so much so that the mentality stuck with fellow star Byron Buxton. The center fielder has credited Correa with helping him better understand the importance of that level of caution.nn"This is no disrespect to anyone else who's in that clubhouse, but \[Correa's\] among the best I've ever seen in terms of preparing himself, taking care of himself, influencing others to take care of themselves in a way that is special and different," president of baseball operations Derek Falvey said at Correa's introductory press conference. "That's all part of the equation here, in a way that factored in as part of the dialogue that ultimately got us to that agreement that we think works."nnThe Twins saw firsthand how carefully Correa manages his body, and that's part of what gave them the confidence to bring him back in the longer term. On Friday, Correa pulled back that curtain a bit on what gives him confidence in his health — and the care he takes to preserve it.","type":"markdown"],"storyType":"news","subHeadline":null,"summary":"FORT MYERS, Fla. — Perhaps no single joint in professional athletics was the subject of more scrutiny and speculation over the course of the offseason than Carlos Correa's right ankle, about which reported concerns on the part of both the Giants and Mets eventually cost him seven years and $150″,"tagline("stripMarkdown":false)":null,"tags":["__typename":"Tag","data":"__typename":"UnsupportedTagType","externalSourceName":null,"slug":"storytype-article","title":"Article","type":"article","__typename":"Tag","data":"__typename":"UnsupportedTagType","externalSourceName":"customentity.contributor","slug":"do-hyoung-park","title":"Do-Hyoung Park","type":"contributor","__typename":"Tag","data":"__ref":"Team:142″,"externalSourceName":"team","slug":"teamid-142″,"title":"Minnesota Twins","type":"team","__typename":"Tag","data":"__ref":"Player:621043″,"externalSourceName":"player","slug":"playerid-621043″,"title":"Carlos Correa","type":"player","__typename":"Tag","data":"__typename":"UnsupportedTagType","externalSourceName":"taxonomy","slug":"apple-news","title":"Apple News","type":"taxonomy","__typename":"Tag","data":"__typename":"UnsupportedTagType","externalSourceName":"taxonomy","slug":"spring-training","title":"Spring Training","type":"taxonomy"],"templateUrl":"https://img.mlbstatic.com/mlb-images/image/upload/formatInstructions/mlb/oqey4ji9ohbtg3qam9dr","title":"Carlos Correa discusses health, fitness routine"}}},"appConfig":"graphqlServiceUrl":"https://content-service.mlb.com","appState":{"adDomain":"mlb.mlb","appId":"","basePath":"news","club":"mlb","contentfulProperties":"__typename":"CF_WebProperties","organismHeadlineFont":null,"urlLogo":null,"favicon":null,"headerMastheadTagline":null,"headerPrimaryLogo":null,"headerMastheadTaglineContainerWidth":"512px","headerMastheadTaglineContainerHeight":"56px","organismLogoVersion":"caplogo","organismLogoStyle":"light","headerMastheadLogoVersion":"cap","headerMastheadLogoStyle":"dark","footerLogoVersion":"primary","footerLogoStyle":"dark","headlineTextTransform":"none","headlineFontFamily":null,"headlineFontFamilySizeMultiplier":1,"articleVideoAutoPlay":true,"articleVideoAutoPlaySound":false,"contentfulPalette":"__typename":"CF_Palette","headerNavigationBackgroundColor":"#041E42″,"headerNavigationTextColor":"#ffffff","headerNavigationTextColorHover":"#ffffff","headerNavigationBorderColor":"#057AFF","headerMastheadBackgroundColor":"#002D72″,"buttonSpotlightBackgroundColor":"#333333″,"buttonSpotlightBackgroundColorHover":"lighten","buttonSpotlightTextColor":"#ffffff","buttonSpotlightTextColorHover":"#ffffff","footerBackgroundColor":"#333″,"footerBorderColor":"#f3f3f3″,"footerLinkColorActive":"#fff","footerLinkColor":"#ffffff","footerLinkColorHover":"#147CD1″,"footerTextColor":"#d2d2d2″,"contextUrlPrefix":"","env":"production","footerState":{"clubId":"mlb","deviceProperties":,"footerData":"instanceId":"db2f8fb2-78c8-4d3c-a328-9e91c349dfee","name":"global-footer","variables":[],"menuItems":["itemId":"aec375d3-3afa-4491-ab28-60b736f38982″,"text":"Terms of Use","properties":"link":"/official-information/terms-of-use","target":"_blank","menuItems":[],"itemId":"debe8dbf-de27-4eae-b7ec-adae43fc4642″,"text":"Privacy Policy","properties":"link":"/official-information/privacy-policy","menuItems":[],"itemId":"345a1847-cac1-43a4-91bf-70c21ecee681″,"text":"Legal Notices","properties":"link":"/official-information/legal-notices","menuItems":[],"itemId":"34014aad-1069-4bba-b22e-4b287a4f7df1″,"text":"Contact Us","properties":"link":"/official-information/contact","menuItems":[],"itemId":"65e06970-7f8e-4328-ad82-9d90df0f3e87″,"text":"Do not Sell or Share My Personal Data","properties":"link":"https://privacyportal.onetrust.com/webform/53a301ae-6882-46f9-af93-24f64f792aee/3251a424-8286-4725-9313-603f12c85a49″,"target":"_blank","menuItems":[],"itemId":"dd307e97-49c6-4f80-aff3-89a59696fb80″,"text":"Official Information","properties":,"menuItems":["itemId":"bdf571d3-e8bb-403b-bb5f-7f28a7127c74″,"text":"Official Info","properties":"link":"/official-information","menuItems":[],"itemId":"ecfd4d42-aa8d-4872-80a5-869c6b493018″,"text":"About MLB","properties":"link":"/official-information/about-mlb","menuItems":[],"itemId":"bb62de22-5c84-4cab-b9fb-5429ea9d647c","text":"Team Information","properties":"link":"https://www.mlb.com/team","menuItems":[],"itemId":"7cc37e2a-667c-4405-bd1f-87ad88bc4d9e","text":"Official Rules","properties":"link":"https://img.mlbstatic.com/mlb-images/image/upload/mlb/hhvryxqioipb87os1puw.pdf","target":"_blank","menuItems":[],"itemId":"e658056b-608b-4eee-a04a-43772f9e6bb4″,"text":"Replay Review Regulations","properties":"link":"/glossary/rules/replay-review","menuItems":[],"itemId":"d1ffda83-f016-4ba6-8f32-7cc7ce787a9c","text":"Umpires","properties":"link":"/official-information/umpires","menuItems":[],"itemId":"23dde9d7-6aba-4bec-a449-b1b4d5a5767c","text":"Advertise with Us","properties":"link":"/sponsorship","menuItems":[],"itemId":"bd193214-b4a4-4c4d-965e-1a55cdc2e0fb","text":"Press Releases","properties":"link":"/news/topic/mlb-press-releases","menuItems":[]],"itemId":"7a60a8fc-0c3c-4c87-b04b-2b57b6c9894c","text":"Help/Contact Us","properties":,"menuItems":["itemId":"efb27376-accc-4ca4-9017-c3309ee122d3″,"text":"Accessibility Information","properties":"link":"/official-information/accessibility","menuItems":[],"itemId":"cf3490fc-f093-4457-99a7-d2bc3f4d4cef","text":"Auctions Customer Service","properties":"link":"http://auctions.mlb.com/iSynApp/manageUserEmail!showEmailContactUsForm.action?sid=1101001″,"menuItems":[],"itemId":"c6867706-11b7-4634-a78e-b5d513948f43″,"text":"Harassment Policy","properties":"link":"/official-information/harassment-policy","menuItems":[],"itemId":"0e3932c9-beec-43f2-b712-66879a51ab63″,"text":"Help/Contact Us","properties":"link":"/official-information/contact","menuItems":[],"itemId":"6d4ebef1-3168-4b79-a237-9f36931d3a2c","text":"MLB App FAQs","properties":"link":"/apps/mlb-app/faq-apple","menuItems":[],"itemId":"4b3c6ee8-d4ae-4265-a7e7-7e5bea8cde28″,"text":"MLB.com Account Information","properties":"link":"/official-information/faqs","menuItems":[],"itemId":"4d33a7c1-38d5-4b3b-a999-53377f55738d","text":"MLB.TV Help Center","properties":"link":"/live-stream-games/help-center","menuItems":[],"itemId":"36f01834-7979-4a42-aa12-52439c2e320b","text":"Shop Help","properties":"link":"https://www.mlbshop.com/customer-help-desk/hd-1″,"menuItems":[]],"itemId":"6ca8b189-8c54-428f-9f79-3c357ef18469″,"text":"More MLB Sites & Affiliates","properties":,"menuItems":["itemId":"becc9309-94fc-491b-ad15-45f7c17f85a9″,"text":"MLB Players Alumni Association","properties":"link":"/mlbpaa","target":"","menuItems":[],"itemId":"9ff49c09-8a0d-41e6-b8b0-14f37f8e7f52″,"text":"MLB Players Association","properties":"link":"http://www.mlbplayers.com/","menuItems":[],"itemId":"022ec2ca-bb20-4543-9cdc-95ba3a4443ca","text":"Minor League Baseball","properties":"link":"https://www.milb.com/","menuItems":[],"itemId":"c6f9948e-3521-4788-83ed-b568f39e86aa","text":"MLB Network","properties":"link":"https://www.mlb.com/network","menuItems":[],"itemId":"de2ea389-0a29-4600-8048-b4261916183d","text":"Baseball Assistance Team","properties":"link":"/baseball-assistance-team","menuItems":[],"itemId":"6a47c1d6-35aa-4028-9825-7cfc34a3ea40″,"text":"Player Resource Center","properties":"link":"/player-resource-center","menuItems":[],"itemId":"75f0b763-612d-4557-ae38-227fb5b3b7f1″,"text":"Tickets.com","properties":"link":"http://www.tickets.com/","menuItems":[],"itemId":"cb410dd4-4ace-4b5b-be3e-4ae6d60cd20f","text":"YES Network","properties":"link":"https://www.yesnetwork.com/","menuItems":[],"itemId":"5c8f6196-a4d5-4ed5-b830-189580691d3e","text":"Australian Baseball League","properties":"link":"https://theabl.com.au/","menuItems":[],"itemId":"ab6fc805-0bb7-439b-8c3c-92c61b035387″,"text":"World Baseball Classic","properties":"link":"https://www.worldbaseballclassic.com/","menuItems":[],"itemId":"e218ed4d-89f9-4f7d-87e7-c05a3559cd74″,"text":"sabr.org","properties":"link":"http://sabr.org/","menuItems":[],"itemId":"158a95a6-bd4f-4654-b57f-465d3c356a55″,"text":"College Baseball Hall of Fame","properties":"link":"https://www.mlb.com/college-baseball-hall-of-fame","menuItems":[],"itemId":"2e494e91-a92e-4763-b89b-7944f37b1b3f","text":"Golden Spike Award","properties":"link":"https://www.usabaseball.com/golden-spikes-award","menuItems":[],"itemId":"ccd9020d-c619-45d2-bc1f-ef80ae2cd651″,"text":"USA Baseball","properties":"link":"https://www.usabaseball.com","menuItems":[],"itemId":"75512a93-d52d-4d71-a6d3-70d6b44dfa0f","text":"LasMayores.com","properties":"link":"https://www.mlb.com/es","menuItems":[],"itemId":"3b7bbad3-1ed5-468d-8703-205519315e04″,"text":"MLBCommunity.org","properties":"link":"/mlb-community","menuItems":[],"itemId":"f8058121-3606-4ff2-be8a-d1a3d47642db","text":"AllStarGame.com","properties":"link":"/all-star","menuItems":[],"itemId":"a624b4e5-c8d8-44b9-9084-7522ed0cee59″,"text":"MLB.com/Kids","properties":"link":"https://www.mlb.com/fans/kids","menuItems":[],"itemId":"43c6bc47-f7d9-445a-85a1-10b3cdc02ee0″,"text":"MLB Photostore","properties":"link":"https://photostore.mlb.com/","visible":"false","menuItems":[],"itemId":"c574a4a2-45ec-47fe-8ca3-b5b99d1cb443″,"text":"PlayBall.org","properties":"link":"https://www.playball.org","menuItems":[],"itemId":"517cf98f-063c-486a-a725-5380e1ae063f","text":"MLB Educators","properties":"link":"/mlb-educators","menuItems":[]],"itemId":"e3a86593-6da0-4d00-a512-0b8c78c9b8a5″,"text":"Careers","properties":"link":"","menuItems":["itemId":"35caab61-51c7-4b17-a9b8-e9ecd201058a","text":"Careers Home","properties":"link":"/careers/home","menuItems":[]]],"headerData":{"instanceId":"fbde1dcd-c837-4740-991c-1087d1db26d1″,"name":"global-nav","variables":[],"menuItems":["itemId":"668844d6-282b-4abb-a162-f6ffff905b11″,"text":"MLB.TV","properties":"customProperties":"align:right;","visible":"true","link":"https://www.mlb.com/tv?&affiliateId=mlbMENUtv","menuItems":["itemId":"43795314-dff1-48d7-8e49-a3d7acab203d","text":"Buy MLB.TV","properties":"link":"/live-stream-games/subscribe?&affiliateId=mlbMENUtv","visible":"true","menuItems":[],"itemId":"5b4ab21b-1d63-4eff-85f9-51075da5915a","text":"Buy At Bat","properties":"link":"/live-stream-games/subscribe/at-bat?&affiliateId=mlbMENUtv","visible":"true","menuItems":[],"itemId":"5e33e51f-2f87-4d40-bf50-cc1704688344″,"text":"Watch & Listen","properties":"link":"/live-stream-games?&affiliateID=mlbMENUtv","visible":"true","menuItems":[],"itemId":"c04b122c-66ec-4bfa-9e26-2e7f75bc915c","text":"Help Center","properties":"link":"/live-stream-games/help-center?&affiliateID=mlbMENUtv","visible":"true","menuItems":[]],"itemId":"tickets","text":"Tickets","properties":"link":"https://www.mlb.com/tickets","customProperties":"align:right;","menuItems":["itemId":"9ded5035-6394-4a4d-b0b4-8e966a524cbe","text":"Tickets Hub","properties":"link":"http://mlb.com/tickets?top-nav-dropdown","menuItems":[],"itemId":"b2956670-29de-4eb5-94db-7cbeecfb987f","text":"All-Star Tickets","properties":"link":"https://www.mlb.com/all-star/tickets?top-nav-dropdown","visible":"false","menuItems":[],"itemId":"020f5910-a69a-443a-b5a3-37b7664d8a4f","text":"Spring Training","properties":"link":"/tickets/spring-training","visible":"false","menuItems":[],"itemId":"524505d6-bf61-4819-8197-f62bc71fd518″,"text":"Postseason Tickets","properties":"link":"/tickets/postseason","visible":"false","menuItems":[]],"itemId":"6bfaf88e-891c-4e05-a935-8a32bd23086a","text":"Shop","properties":"link":"https://www.mlbshop.com/?_s=bm-mlbcom-hp","customProperties":"align:right;","icon":"shopping-cart","menuItems":["itemId":"91dcfa1d-f4de-4bf9-93f8-8f91f4069272″,"text":"MLB Online Shop","properties":"link":"https://www.mlbshop.com/?_s=bm-mlbcom-hp","customProperties":"","menuItems":[],"itemId":"d7b3c8e0-42c4-45c5-8278-c51adb21b47f","text":"Auction","properties":"link":"https://auctions.mlb.com/iSynApp/showHomePage.action?sid=1101001&isynsharedsession=9mislq-18JnZhOEp-FeGzvUB3G6zxwkeKqwX99MKAttEdaSACl02r4aCDzYhNvUm","visible":"true","menuItems":[],"itemId":"c69e35fc-900e-4fcc-9348-085aa0febeab","text":"Gift Cards","properties":"link":"https://www.mlbshop.com/gift-cards/x-462351+z-94899005-3509039474?_s=bm-mlbcom-Home","customProperties":"","menuItems":[],"itemId":"7423a9ca-3a6f-42fe-8d6e-9459bed284c7″,"text":"MLB NYC Flagship Store","properties":"link":"https://www.mlb.com/shop/nyc-retail-store","menuItems":[],"itemId":"44958e84-599e-44b1-96b4-44f38a477942″,"text":"European Shop","properties":"link":"http://www.mlbshopeurope.com/stores/mlb/en?portal=MLTS66FS&CMP=PSC-MLTS66FS","customProperties":"","menuItems":[],"itemId":"51d3278e-90fd-4462-aec0-7cfd8de1cb79″,"text":"Photo Store","properties":"link":"https://photostore.mlb.com/","visible":"true","menuItems":[]],"itemId":"5052bac6-3f1d-4847-8739-42021d7cfc2d","text":"News","properties":"link":"https://www.mlb.com/news","customProperties":"amp:true;mobile:true","menuItems":["itemId":"82d45c9a-d055-4ab4-b785-576d982a2077″,"text":"Probable Pitchers","properties":"link":"/probable-pitchers","visible":"false","enabled":"true","menuItems":[],"itemId":"d08f0874-ecb6-4378-93c6-be05b4397c21″,"text":"Hot Stove Tracker","properties":"link":"https://www.mlb.com/hot-stove","menuItems":[],"itemId":"29c52020-6ed2-45f6-8f8b-6d7e909a68c1″,"text":"Starting Lineups","properties":"link":"https://www.mlb.com/starting-lineups","menuItems":[],"itemId":"28522a27-ab22-43ed-84b4-1b4760c39535″,"text":"Transactions","properties":"link":"https://www.mlb.com/transactions","menuItems":[],"itemId":"6efef6dd-bb02-4811-85f8-c8088d743fae","text":"Postseason History","properties":"link":"https://www.mlb.com/postseason/history","menuItems":[],"itemId":"28a2e573-86ba-4cdc-a924-86d3b6500979″,"text":"Injury Report","properties":"link":"https://www.mlb.com/injury-report","visible":"true","menuItems":[],"itemId":"3f97e5c6-cd8f-4c42-9be1-b816ea9f47b1″,"text":"World Baseball Classic","properties":"link":"https://www.mlb.com/world-baseball-classic","menuItems":[],"itemId":"c1ac7886-1d18-4ad8-9fc4-326ab4753144″,"text":"MLB Draft","properties":"link":"https://www.mlb.com/draft/2023″,"visible":"true","menuItems":[],"itemId":"7e316d55-5379-4151-a0e5-828b6b4f8ba8″,"text":"All-Star Game","properties":"link":"https://www.mlb.com/all-star/","visible":"true","menuItems":[],"itemId":"de347a3e-0811-49db-aca7-d56d79b69cde","text":"MLB Pipeline","properties":"link":"https://www.mlb.com/pipeline","menuItems":[],"itemId":"6ee1c331-faa0-4865-a062-1c98a2f67c0d","text":"Great Stories","properties":"link":"https://www.mlb.com/news/topic/longform","visible":"true","menuItems":[]],"itemId":"ed72bef5-d993-4ffe-91d2-15abf6218c12″,"text":"Watch","properties":"link":"/tv?&affiliateId=mlbMENU","menuItems":["itemId":"d492eeb7-757f-4600-b3b3-77882293b208″,"text":"Video","properties":,"menuItems":["itemId":"5031c87a-7b97-4db0-a447-d29e556f380c","text":"Film Room","properties":"link":"https://www.mlb.com/video","menuItems":[],"itemId":"49538483-21da-4efb-9624-3b27c74823ad","text":"Statcast","properties":"link":"https://www.mlb.com/video/topic/statcast","menuItems":[],"itemId":"5dbfda08-1915-42bc-a899-61f8906ede30″,"text":"MLB Network","properties":"link":"https://www.mlb.com/network","menuItems":[],"itemId":"168e1c3a-56a8-49f4-8800-ef5ff3024c7d","text":"MLB Originals","properties":"link":"https://www.mlb.com/fans/mlb-originals","menuItems":[],"itemId":"527369c6-59ed-47ec-b41f-2b71444bfeee","text":"Podcasts","properties":"link":"https://www.mlb.com/fans/podcasts","menuItems":[]],"itemId":"5dd37289-4d79-4b66-8359-1c5d0954f7f1″,"text":"MLB.TV","properties":,"menuItems":["itemId":"6c2eca19-80b0-45e0-a481-53d6200992e3″,"text":"Watch & Listen Archives","properties":"link":"/live-stream-games?&affiliateID=mlbMENU","visible":"false","menuItems":[],"itemId":"1ff93fa1-3ae4-40e3-b263-f34d1e3a70e1″,"text":"Buy Offseason","properties":"link":"/live-stream-games/subscribe?&affiliateId=mlbMENU","visible":"false","menuItems":[],"itemId":"5df3aa62-4f5b-479c-9669-4736862d0100″,"text":"Buy MLB Audio","properties":"link":"/live-stream-games/subscribe/mlb-audio?&affiliateId=mlbMENU","visible":"false","menuItems":[],"itemId":"6410ddb0-717a-4b20-b24e-7ca0053c4f6c","text":"Buy MLB.TV","properties":"link":"/live-stream-games/subscribe?&affiliateId=mlbMENU","visible":"true","menuItems":[],"itemId":"970ab45a-756b-41ab-a415-7ca4763ec42e","text":"Buy At Bat","properties":"link":"/live-stream-games/subscribe/at-bat?&affiliateId=mlbMENU","visible":"true","menuItems":[],"itemId":"eb7e4c9b-2723-4af8-9e4c-c4f52be5efb2″,"text":"Watch & Listen","properties":"link":"/live-stream-games?&affiliateID=mlbMENU","visible":"true","menuItems":[],"itemId":"18ca0078-fb25-40f0-98b9-05c2a605965b","text":"Help Center","properties":"link":"/live-stream-games/help-center?&affiliateID=mlbMENU","menuItems":[]]],"itemId":"7c68f445-5095-46cc-bab3-73af6c921597″,"text":"Scores","properties":"link":"https://www.mlb.com/scores","customProperties":"mobile:true;amp:true;","visible":"true","menuItems":[],"itemId":"248fea7e-1d19-452a-bb5c-999e1a09b7cd","text":"Schedule","properties":"link":"https://www.mlb.com/schedule/2023-03-30″,"customProperties":"amp:true;mobile:true;","menuItems":["itemId":"d92068f1-fb82-4b03-ae27-10f3e812b6fa","text":"2023 Regular Season","properties":"link":"https://www.mlb.com/schedule/2023-03-30″,"menuItems":[],"itemId":"d50ca7f4-b653-4c3a-a63b-c653bff0bbdc","text":"2023 Spring Training","properties":"link":"https://www.mlb.com/schedule/2023-02-24″,"menuItems":[],"itemId":"f4010b7a-902c-41e0-b405-e0fa695b5c64″,"text":"2022 Regular Season","properties":"link":"https://www.mlb.com/schedule/2022-04-07″,"menuItems":[],"itemId":"2755030c-3503-4089-b6c2-b8e982459945″,"text":"2022 Postseason","properties":"link":"https://www.mlb.com/postseason","menuItems":[],"itemId":"94c9d7e4-3477-4217-87f3-008d2290b9ee","text":"Important Dates","properties":"link":"/schedule/events#important-dates","menuItems":[],"itemId":"3747c1bc-9b3d-43f5-bd04-d1274c59c02a","text":"Team by Team Schedule","properties":"link":"https://www.mlb.com/schedule/team-by-team","menuItems":[],"itemId":"e75ecc62-7e72-4b53-9705-a23e2b511f83″,"text":"National Broadcasts","properties":"link":"https://www.mlb.com/live-stream-games/national-broadcast-schedule","visible":"true","menuItems":[]],"itemId":"9efaf5e3-6a93-4e4f-b8af-1219110ecb30″,"text":"Stats","properties":"link":"https://www.mlb.com/stats","customProperties":"mobile:true;amp:true;","menuItems":["itemId":"41566816-1cb8-421f-9a4a-9ccdefa7ed69″,"text":"Statcast Leaders","properties":"link":"https://baseballsavant.mlb.com/statcast_leaderboard","menuItems":[],"itemId":"2d0a2684-64c6-4d9f-87a1-a7cf9f661e2f","text":"Baseball Savant","properties":"link":"https://baseballsavant.mlb.com/","menuItems":[],"itemId":"b9d0ae31-f31d-449b-82fb-5a77f59293ba","text":"Top Prospect Stats","properties":"link":"/prospects/stats/top-prospects?type=all&minPA=1″,"menuItems":[]],"itemId":"6af88ec1-9bfe-4494-abc0-898dc919a081″,"text":"Standings","properties":"link":"https://www.mlb.com/standings","customProperties":"amp:true;","menuItems":[],"itemId":"15179b67-af8e-42a1-964c-45944e1ab986″,"text":"Youth","properties":"link":"https://www.mlb.com/youth-baseball-softball","menuItems":["itemId":"0a04e27f-bcb1-4901-acc0-a14e9ebc5852″,"text":"Play Ball","properties":"link":"https://www.mlb.com/play-ball","menuItems":[],"itemId":"f989fcab-01fa-4d66-8e11-6640be070816″,"text":"Youth Baseball & Softball","properties":"link":"https://www.mlb.com/youth-baseball-softball","menuItems":[]],"itemId":"8c842eeb-dedd-430c-a452-57a740d5c3df","text":"Players","properties":"link":"https://www.mlb.com/players","customProperties":"","icon":"group","visible":"true","menuItems":["itemId":"2983d4a7-0410-41fe-8b08-35c866b373d5″,"text":"Prospect Rankings","properties":"link":"https://www.mlb.com/prospects","menuItems":[],"itemId":"1f929714-240b-4834-b859-8066a592fa8e","text":"Depth Charts","properties":"link":"https://www.mlb.com/team/roster/depth-chart","menuItems":[],"itemId":"a07b01b6-397e-450e-bd8d-7e00c6dd2a80″,"text":"MLB Players Association","properties":"link":"https://www.mlbplayers.com","menuItems":[],"itemId":"3de86763-c530-400b-a7de-1761c927d7bc","text":"Negro Leagues","properties":"link":"https://www.mlb.com/history/negro-leagues","menuItems":[]],"itemId":"98430c25-7924-4112-a70f-0b32fd31594f","text":"Teams","properties":"link":"https://www.mlb.com/team","customProperties":"amp:true;module:teammodule;align:right;","menuItems":["itemId":"9191834c-54c4-40a7-8aac-9745d3666084″,"text":"Team Module","properties":"customProperties":"module:teammodule;","menuItems":[]],"itemId":"397b9e10-6d65-4fc0-bbe6-8d07f5e8d3a8″,"text":"ES","properties":"link":"https://www.mlb.com/es","customProperties":"align:right;lang:es;label:Español","toolTip":"Español","menuItems":["itemId":"ceb83c80-eaf2-4dd4-bdc6-e23b1e11ae60″,"text":"日本語","properties":"link":"http://www.mlb.jp/","customProperties":"lang:ja","visible":"false","menuItems":[],"itemId":"27ac6728-00c1-4965-963b-05d33268fb50″,"text":"한국어","properties":"link":"https://www.mlbkor.com/","customProperties":"lang:ko","visible":"false","menuItems":[]]]},"locale":"en","reqPath":"/news/carlos-correa-discusses-health-fitness-routine","sharedNav":"instanceId":"6c265854-d856-4f92-aea1-07dfe5cda020″,"name":"shared-nav","variables":[],"menuItems":["itemId":"93b3e9b2-65a9-4585-9185-03e255cb523c","text":"MLB.TV","properties":"link":"https://www.mlb.com/tv?&affiliateId=clubMENU","icon":"watch","customProperties":"align:right;","menuItems":["itemId":"2d8d6ad8-dc2a-4971-9b12-f1853530c5d3″,"text":"Buy MLB.TV","properties":"link":"https://www.mlb.com/live-stream-games/subscribe?&affiliateId=clubMENU","menuItems":[],"itemId":"38c2991b-6331-469b-bce7-c53ab3267bc6″,"text":"Buy At Bat","properties":"link":"/live-stream-games/subscribe/mlb-audio?&affiliateId=clubMENU","menuItems":[],"itemId":"d54a2b21-9db9-4252-9ebe-e3a4b2a3cf83″,"text":"Watch & Listen","properties":"link":"https://www.mlb.com/live-stream-games?&affiliateId=clubMENU","menuItems":[],"itemId":"2f433cfb-699a-43bb-ab54-d3b4a7269d8e","text":"Watch MLB.TV Docs & Features","properties":"link":"https://www.mlb.com/tv/featured?&affiliateId=clubMENU","menuItems":[],"itemId":"6254640c-2069-4447-822f-084d0a38f161″,"text":"MLB.TV Help Center","properties":"link":"https://www.mlb.com/live-stream-games/help-center?&affiliateId=clubMENU","menuItems":[]],"itemId":"d54d0be0-f610-4f8b-90ac-c246c361e2e2″,"text":"Fantasy","properties":"link":"https://www.mlb.com/fantasy","customProperties":"","visible":"true","menuItems":["itemId":"5ec4bde4-6bc1-412b-a92b-6b7cb3b2f07c","text":"Yahoo Fantasy Baseball","properties":"link":"http://yhoo.it/3aK5QQw","visible":"false","target":"_blank","menuItems":[],"itemId":"b2a63b51-03fc-423d-971e-1e566f6008f4″,"text":"MLB Rally","properties":"link":"https://www.mlb.com/apps/rally","visible":"false","menuItems":[],"itemId":"f6929b88-632d-4a6f-ba73-8a64fccba1b0″,"text":"MLB Quick Pick","properties":"link":"https://www.mlb.com/apps/rally/quickpick","visible":"false","menuItems":[],"itemId":"0ebe9e5d-3fc7-48d2-acb1-c33eb931b911″,"text":"MLB Beat the Streak","properties":"link":"https://www.mlb.com/apps/beat-the-streak","visible":"false","menuItems":[],"itemId":"086bd307-a929-4414-9dd7-09bdac8d3f2e","text":"MLB MOONBLASTS Pick 'Em","properties":"link":"https://www.mlb.com/sponsorship/ftx-moonblasts-pick-em","customProperties":"expires:1627754400″,"visible":"false","menuItems":[],"itemId":"14aa1d4b-0193-4670-a1fc-b4386d4977e8″,"text":"The Vault","properties":"link":"https://www.mlb.com/the-vault","visible":"false","menuItems":[],"itemId":"4e0abdd4-8a0f-4bc5-838f-91dd2796041e","text":"MLB Home Run Derby","properties":"link":"https://www.mlb.com/fantasy/home-run-derby","menuItems":[],"itemId":"7d8dfda7-345a-46fa-82dc-105068ba223e","text":"Season Pick 'Em","properties":"link":"https://www.mlb.com/season-pick-em?affiliateId=spe-fantasynav-club-2021″,"visible":"false","menuItems":[],"itemId":"6eda396d-199b-4772-b3c9-c0b032513b6c","text":"MLB Pre-Pick (AUS)","properties":"customProperties":"","link":"https://www.mlb.com/pre-pick/tab","visible":"false","menuItems":[],"itemId":"9f1ff266-0ed8-4adb-ba77-428d1871b237″,"text":"Closer Report","properties":"link":"https://www.mlb.com/closer-report","visible":"false","menuItems":[],"itemId":"4c4f57bd-e31a-46c9-8f73-0fa2227451d3″,"text":"Prospect Rankings","properties":"link":"https://www.mlb.com/prospects","menuItems":[],"itemId":"1ebe4dc3-2c6a-469f-be59-474fe14dbbd7″,"text":"MLB Champions","properties":"link":"https://www.mlbc.app/?ref=mlbcom","target":"_blank","visible":"false","menuItems":[]],"itemId":"d1f61f89-9fd0-4f03-be17-2c5e128711a4″,"text":"Apps","properties":"link":"/apps","menuItems":["itemId":"83ac2ddf-414b-47d1-afec-ffacd068ab57″,"text":"MLB","properties":"link":"/apps/mlb-app","menuItems":[],"itemId":"83dbba73-02ac-4ba0-bebf-2c62ef04c19e","text":"MLB Rally","properties":"link":"https://www.mlb.com/apps/rally","visible":"false","menuItems":[],"itemId":"26fda476-348c-4f42-aa7c-92d1f9b1bf5c","text":"MLB Beat the Streak","properties":"link":"https://www.mlb.com/apps/beat-the-streak","visible":"false","menuItems":[],"itemId":"e09e6978-fcf7-4c2f-8387-59d83b7be38e","text":"MLB Ballpark","properties":"link":"/apps/ballpark","menuItems":[],"itemId":"86320a6b-11a1-4312-8eeb-a6c44f293f6c","text":"MLB Play","properties":"link":"https://www.mlb.com/play","menuItems":[],"itemId":"5e7b8019-9484-4872-abd7-8b963cd5969e","text":"MiLB First Pitch","properties":"link":"https://www.milb.com/about/first-pitch","menuItems":[],"itemId":"4fd8c1f8-a753-4501-916c-663390f1a566″,"text":"MLB Home Run Derby","properties":"link":"https://www.mlb.com/fantasy/home-run-derby","menuItems":[],"itemId":"9d8dfe8b-be1a-4ebf-9509-6bd0165a868e","text":"MLB FAQs","properties":"link":"/apps/mlb-app/faq-apple","menuItems":[],"itemId":"df4e8527-e357-4272-bcf7-61876ed9455d","text":"MLB Ballpark FAQs","properties":"link":"/apps/ballpark/faq-apple","visible":"true","menuItems":[],"itemId":"0ee38329-4c3c-48f5-86c7-04a58c24c006″,"text":"MLB Play FAQs","properties":"link":"https://www.mlb.com/help/play/frequently-asked-questions","menuItems":[],"itemId":"c2943c65-a843-437a-9ef4-4ccfe5be088f","text":"MLB Rally FAQs","properties":"link":"https://www.mlb.com/apps/rally/faq-apple","visible":"false","menuItems":[]]],"styleProps":,"teamNameSlug":"","teamsData":["springLeague":"id":114,"name":"Cactus League","link":"/api/v1/league/114″,"abbreviation":"CL","allStarStatus":"N","id":133,"name":"Oakland Athletics","link":"/api/v1/teams/133″,"season":2023,"venue":"id":10,"name":"Oakland Coliseum","link":"/api/v1/venues/10″,"location":"address1″:"7000 Coliseum Way","city":"Oakland","state":"California","stateAbbrev":"CA","postalCode":"94621″,"defaultCoordinates":"latitude":37.751511,"longitude":-122.200698,"country":"USA","phone":"(510) 638-4900″,"timeZone":"id":"America/Los_Angeles","offset":-8,"tz":"PST","active":true,"season":"2023″,"springVenue":"id":2507,"link":"/api/v1/venues/2507″,"teamCode":"oak","fileCode":"oak","abbreviation":"OAK","teamName":"Athletics","locationName":"Oakland","firstYearOfPlay":"1901″,"league":"id":103,"name":"American League","link":"/api/v1/league/103″,"division":"id":200,"name":"American League West","link":"/api/v1/divisions/200″,"sport":"id":1,"link":"/api/v1/sports/1″,"name":"Major League Baseball","shortName":"Oakland","franchiseName":"Oakland","clubName":"Athletics","active":true,"springLeague":"id":115,"name":"Grapefruit League","link":"/api/v1/league/115″,"abbreviation":"GL","allStarStatus":"N","id":134,"name":"Pittsburgh Pirates","link":"/api/v1/teams/134″,"season":2023,"venue":"id":31,"name":"PNC Park","link":"/api/v1/venues/31″,"location":"address1″:"115 Federal Street","city":"Pittsburgh","state":"Pennsylvania","stateAbbrev":"PA","postalCode":"15212″,"defaultCoordinates":"latitude":40.446904,"longitude":-80.005753,"country":"USA","phone":"(412) 323-5000″,"timeZone":"id":"America/New_York","offset":-5,"tz":"EST","active":true,"season":"2023″,"springVenue":"id":2526,"link":"/api/v1/venues/2526″,"teamCode":"pit","fileCode":"pit","abbreviation":"PIT","teamName":"Pirates","locationName":"Pittsburgh","firstYearOfPlay":"1882″,"league":"id":104,"name":"National League","link":"/api/v1/league/104″,"division":"id":205,"name":"National League Central","link":"/api/v1/divisions/205″,"sport":"id":1,"link":"/api/v1/sports/1″,"name":"Major League Baseball","shortName":"Pittsburgh","franchiseName":"Pittsburgh","clubName":"Pirates","active":true,"springLeague":"id":114,"name":"Cactus League","link":"/api/v1/league/114″,"abbreviation":"CL","allStarStatus":"N","id":135,"name":"San Diego Padres","link":"/api/v1/teams/135″,"season":2023,"venue":"id":2680,"name":"Petco Park","link":"/api/v1/venues/2680″,"location":"address1″:"100 Park Boulevard","city":"San Diego","state":"California","stateAbbrev":"CA","postalCode":"92101″,"defaultCoordinates":"latitude":32.707861,"longitude":-117.157278,"country":"USA","phone":"(619) 795-5000″,"timeZone":"id":"America/Los_Angeles","offset":-8,"tz":"PST","active":true,"season":"2023″,"springVenue":"id":2530,"link":"/api/v1/venues/2530″,"teamCode":"sdn","fileCode":"sd","abbreviation":"SD","teamName":"Padres","locationName":"San Diego","firstYearOfPlay":"1968″,"league":"id":104,"name":"National League","link":"/api/v1/league/104″,"division":"id":203,"name":"National League West","link":"/api/v1/divisions/203″,"sport":"id":1,"link":"/api/v1/sports/1″,"name":"Major League Baseball","shortName":"San Diego","franchiseName":"San Diego","clubName":"Padres","active":true,"springLeague":"id":114,"name":"Cactus League","link":"/api/v1/league/114″,"abbreviation":"CL","allStarStatus":"N","id":136,"name":"Seattle Mariners","link":"/api/v1/teams/136″,"season":2023,"venue":"id":680,"name":"T-Mobile Park","link":"/api/v1/venues/680″,"location":"address1″:"P.O. Box 4100″,"city":"Seattle","state":"Washington","stateAbbrev":"WA","postalCode":"98104″,"defaultCoordinates":"latitude":47.591333,"longitude":-122.33251,"country":"USA","phone":"(206) 346-4000″,"timeZone":"id":"America/Los_Angeles","offset":-8,"tz":"PST","active":true,"season":"2023″,"springVenue":"id":2530,"link":"/api/v1/venues/2530″,"teamCode":"sea","fileCode":"sea","abbreviation":"SEA","teamName":"Mariners","locationName":"Seattle","firstYearOfPlay":"1977″,"league":"id":103,"name":"American League","link":"/api/v1/league/103″,"division":"id":200,"name":"American League West","link":"/api/v1/divisions/200″,"sport":"id":1,"link":"/api/v1/sports/1″,"name":"Major League Baseball","shortName":"Seattle","franchiseName":"Seattle","clubName":"Mariners","active":true,"springLeague":"id":114,"name":"Cactus League","link":"/api/v1/league/114″,"abbreviation":"CL","allStarStatus":"N","id":137,"name":"San Francisco Giants","link":"/api/v1/teams/137″,"season":2023,"venue":"id":2395,"name":"Oracle Park","link":"/api/v1/venues/2395″,"location":"address1″:"24 Willie Mays Plaza","city":"San Francisco","state":"California","stateAbbrev":"CA","postalCode":"94107″,"defaultCoordinates":"latitude":37.778383,"longitude":-122.389448,"country":"USA","phone":"(415) 972-2000″,"timeZone":"id":"America/Los_Angeles","offset":-8,"tz":"PST","active":true,"season":"2023″,"springVenue":"id":2532,"link":"/api/v1/venues/2532″,"teamCode":"sfn","fileCode":"sf","abbreviation":"SF","teamName":"Giants","locationName":"San Francisco","firstYearOfPlay":"1883″,"league":"id":104,"name":"National League","link":"/api/v1/league/104″,"division":"id":203,"name":"National League West","link":"/api/v1/divisions/203″,"sport":"id":1,"link":"/api/v1/sports/1″,"name":"Major League Baseball","shortName":"San Francisco","franchiseName":"San Francisco","clubName":"Giants","active":true,"springLeague":"id":115,"name":"Grapefruit League","link":"/api/v1/league/115″,"abbreviation":"GL","allStarStatus":"N","id":138,"name":"St. Louis Cardinals","link":"/api/v1/teams/138″,"season":2023,"venue":"id":2889,"name":"Busch Stadium","link":"/api/v1/venues/2889″,"location":"address1″:"700 Clark Street","city":"St. Louis","state":"Missouri","stateAbbrev":"MO","postalCode":"63102″,"defaultCoordinates":"latitude":38.62256667,"longitude":-90.19286667,"country":"USA","phone":"(314) 345-9600″,"timeZone":"id":"America/Chicago","offset":-6,"tz":"CST","active":true,"season":"2023″,"springVenue":"id":2520,"link":"/api/v1/venues/2520″,"teamCode":"sln","fileCode":"stl","abbreviation":"STL","teamName":"Cardinals","locationName":"St. Louis","firstYearOfPlay":"1892″,"league":"id":104,"name":"National League","link":"/api/v1/league/104″,"division":"id":205,"name":"National League Central","link":"/api/v1/divisions/205″,"sport":"id":1,"link":"/api/v1/sports/1″,"name":"Major League Baseball","shortName":"St. Louis","franchiseName":"St. Louis","clubName":"Cardinals","active":true,"springLeague":"id":115,"name":"Grapefruit League","link":"/api/v1/league/115″,"abbreviation":"GL","allStarStatus":"N","id":139,"name":"Tampa Bay Rays","link":"/api/v1/teams/139″,"season":2023,"venue":"id":12,"name":"Tropicana Field","link":"/api/v1/venues/12″,"location":"address1″:"One Tropicana Drive","city":"St. Petersburg","state":"Florida","stateAbbrev":"FL","postalCode":"33705″,"defaultCoordinates":"latitude":27.767778,"longitude":-82.6525,"country":"USA","phone":"(727) 825-3137″,"timeZone":"id":"America/New_York","offset":-5,"tz":"EST","active":true,"season":"2023″,"springVenue":"id":2534,"link":"/api/v1/venues/2534″,"teamCode":"tba","fileCode":"tb","abbreviation":"TB","teamName":"Rays","locationName":"St. Petersburg","firstYearOfPlay":"1996″,"league":"id":103,"name":"American League","link":"/api/v1/league/103″,"division":"id":201,"name":"American League East","link":"/api/v1/divisions/201″,"sport":"id":1,"link":"/api/v1/sports/1″,"name":"Major League Baseball","shortName":"Tampa Bay","franchiseName":"Tampa Bay","clubName":"Rays","active":true,"springLeague":"id":114,"name":"Cactus League","link":"/api/v1/league/114″,"abbreviation":"CL","allStarStatus":"N","id":140,"name":"Texas Rangers","link":"/api/v1/teams/140″,"season":2023,"venue":"id":5325,"name":"Globe Life Field","link":"/api/v1/venues/5325″,"location":"address1″:"734 Stadium Drive","city":"Arlington","state":"Texas","stateAbbrev":"TX","postalCode":"76011″,"defaultCoordinates":"latitude":32.747299,"longitude":-97.081818,"country":"USA","phone":"(817) 533-1972″,"timeZone":"id":"America/Chicago","offset":-6,"tz":"CST","active":true,"season":"2023″,"springVenue":"id":2603,"link":"/api/v1/venues/2603″,"teamCode":"tex","fileCode":"tex","abbreviation":"TEX","teamName":"Rangers","locationName":"Arlington","firstYearOfPlay":"1961″,"league":"id":103,"name":"American League","link":"/api/v1/league/103″,"division":"id":200,"name":"American League West","link":"/api/v1/divisions/200″,"sport":"id":1,"link":"/api/v1/sports/1″,"name":"Major League Baseball","shortName":"Texas","franchiseName":"Texas","clubName":"Rangers","active":true,"springLeague":"id":115,"name":"Grapefruit League","link":"/api/v1/league/115″,"abbreviation":"GL","allStarStatus":"N","id":141,"name":"Toronto Blue Jays","link":"/api/v1/teams/141″,"season":2023,"venue":"id":14,"name":"Rogers Centre","link":"/api/v1/venues/14″,"location":"address1″:"1 Blue Jays Way, Suite 3200″,"city":"Toronto","state":"Ontario","stateAbbrev":"ON","postalCode":"M5V1J1″,"defaultCoordinates":"latitude":43.64155,"longitude":-79.38915,"country":"Canada","phone":"(416) 341-1000″,"timeZone":"id":"America/Toronto","offset":-5,"tz":"EST","active":true,"season":"2023″,"springVenue":"id":2536,"link":"/api/v1/venues/2536″,"teamCode":"tor","fileCode":"tor","abbreviation":"TOR","teamName":"Blue Jays","locationName":"Toronto","firstYearOfPlay":"1977″,"league":"id":103,"name":"American League","link":"/api/v1/league/103″,"division":"id":201,"name":"American League East","link":"/api/v1/divisions/201″,"sport":"id":1,"link":"/api/v1/sports/1″,"name":"Major League Baseball","shortName":"Toronto","franchiseName":"Toronto","clubName":"Blue Jays","active":true,"springLeague":"id":115,"name":"Grapefruit League","link":"/api/v1/league/115″,"abbreviation":"GL","allStarStatus":"N","id":142,"name":"Minnesota Twins","link":"/api/v1/teams/142″,"season":2023,"venue":"id":3312,"name":"Target Field","link":"/api/v1/venues/3312″,"location":"address1″:"1 Twins Way","city":"Minneapolis","state":"Minnesota","stateAbbrev":"MN","postalCode":"55403″,"defaultCoordinates":"latitude":44.981829,"longitude":-93.277891,"country":"USA","phone":"(612) 659-3400″,"timeZone":"id":"America/Chicago","offset":-6,"tz":"CST","active":true,"season":"2023″,"springVenue":"id":2862,"link":"/api/v1/venues/2862″,"teamCode":"min","fileCode":"min","abbreviation":"MIN","teamName":"Twins","locationName":"Minneapolis","firstYearOfPlay":"1901″,"league":"id":103,"name":"American League","link":"/api/v1/league/103″,"division":"id":202,"name":"American League Central","link":"/api/v1/divisions/202″,"sport":"id":1,"link":"/api/v1/sports/1″,"name":"Major League Baseball","shortName":"Minnesota","franchiseName":"Minnesota","clubName":"Twins","active":true,"springLeague":"id":115,"name":"Grapefruit League","link":"/api/v1/league/115″,"abbreviation":"GL","allStarStatus":"N","id":143,"name":"Philadelphia Phillies","link":"/api/v1/teams/143″,"season":2023,"venue":"id":2681,"name":"Citizens Bank Park","link":"/api/v1/venues/2681″,"location":"address1″:"One Citizens Bank Way","city":"Philadelphia","state":"Pennsylvania","stateAbbrev":"PA","postalCode":"19148″,"defaultCoordinates":"latitude":39.90539086,"longitude":-75.16716957,"country":"USA","phone":"(215) 463-6000″,"timeZone":"id":"America/New_York","offset":-5,"tz":"EST","active":true,"season":"2023″,"springVenue":"id":2700,"link":"/api/v1/venues/2700″,"teamCode":"phi","fileCode":"phi","abbreviation":"PHI","teamName":"Phillies","locationName":"Philadelphia","firstYearOfPlay":"1883″,"league":"id":104,"name":"National League","link":"/api/v1/league/104″,"division":"id":204,"name":"National League East","link":"/api/v1/divisions/204″,"sport":"id":1,"link":"/api/v1/sports/1″,"name":"Major League Baseball","shortName":"Philadelphia","franchiseName":"Philadelphia","clubName":"Phillies","active":true,"springLeague":"id":115,"name":"Grapefruit League","link":"/api/v1/league/115″,"abbreviation":"GL","allStarStatus":"N","id":144,"name":"Atlanta Braves","link":"/api/v1/teams/144″,"season":2023,"venue":"id":4705,"name":"Truist Park","link":"/api/v1/venues/4705″,"location":"address1″:"755 Battery Avenue","city":"Atlanta","state":"Georgia","stateAbbrev":"GA","postalCode":"30339″,"defaultCoordinates":"latitude":33.890672,"longitude":-84.467641,"country":"USA","timeZone":"id":"America/New_York","offset":-5,"tz":"EST","active":true,"season":"2023″,"springVenue":"id":5380,"link":"/api/v1/venues/5380″,"teamCode":"atl","fileCode":"atl","abbreviation":"ATL","teamName":"Braves","locationName":"Atlanta","firstYearOfPlay":"1871″,"league":"id":104,"name":"National League","link":"/api/v1/league/104″,"division":"id":204,"name":"National League East","link":"/api/v1/divisions/204″,"sport":"id":1,"link":"/api/v1/sports/1″,"name":"Major League Baseball","shortName":"Atlanta","franchiseName":"Atlanta","clubName":"Braves","active":true,"springLeague":"id":114,"name":"Cactus League","link":"/api/v1/league/114″,"abbreviation":"CL","allStarStatus":"N","id":145,"name":"Chicago White Sox","link":"/api/v1/teams/145″,"season":2023,"venue":"id":4,"name":"Guaranteed Rate Field","link":"/api/v1/venues/4″,"location":"address1″:"333 West 35th Street","city":"Chicago","state":"Illinois","stateAbbrev":"IL","postalCode":"60616″,"defaultCoordinates":"latitude":41.83,"longitude":-87.634167,"country":"USA","phone":"(312) 674-1000″,"timeZone":"id":"America/Chicago","offset":-6,"tz":"CST","active":true,"season":"2023″,"springVenue":"id":3809,"link":"/api/v1/venues/3809″,"teamCode":"cha","fileCode":"cws","abbreviation":"CWS","teamName":"White Sox","locationName":"Chicago","firstYearOfPlay":"1901″,"league":"id":103,"name":"American League","link":"/api/v1/league/103″,"division":"id":202,"name":"American League Central","link":"/api/v1/divisions/202″,"sport":"id":1,"link":"/api/v1/sports/1″,"name":"Major League Baseball","shortName":"Chi White Sox","franchiseName":"Chicago","clubName":"White Sox","active":true,"springLeague":"id":115,"name":"Grapefruit League","link":"/api/v1/league/115″,"abbreviation":"GL","allStarStatus":"N","id":146,"name":"Miami Marlins","link":"/api/v1/teams/146″,"season":2023,"venue":"id":4169,"name":"loanDepot park","link":"/api/v1/venues/4169″,"location":"address1″:"501 Marlins Way","city":"Miami","state":"Florida","stateAbbrev":"FL","postalCode":"33125″,"defaultCoordinates":"latitude":25.77796236,"longitude":-80.21951795,"country":"USA","timeZone":"id":"America/New_York","offset":-5,"tz":"EST","active":true,"season":"2023″,"springVenue":"id":2520,"link":"/api/v1/venues/2520″,"teamCode":"mia","fileCode":"mia","abbreviation":"MIA","teamName":"Marlins","locationName":"Miami","firstYearOfPlay":"1991″,"league":"id":104,"name":"National League","link":"/api/v1/league/104″,"division":"id":204,"name":"National League East","link":"/api/v1/divisions/204″,"sport":"id":1,"link":"/api/v1/sports/1″,"name":"Major League Baseball","shortName":"Miami","franchiseName":"Miami","clubName":"Marlins","active":true,"springLeague":"id":115,"name":"Grapefruit League","link":"/api/v1/league/115″,"abbreviation":"GL","allStarStatus":"N","id":147,"name":"New York Yankees","link":"/api/v1/teams/147″,"season":2023,"venue":"id":3313,"name":"Yankee Stadium","link":"/api/v1/venues/3313″,"location":"address1″:"One East 161st Street","city":"Bronx","state":"New York","stateAbbrev":"NY","postalCode":"10451″,"defaultCoordinates":"latitude":40.82919482,"longitude":-73.9264977,"country":"USA","phone":"(718) 293-4300″,"timeZone":"id":"America/New_York","offset":-5,"tz":"EST","active":true,"season":"2023″,"springVenue":"id":2523,"link":"/api/v1/venues/2523″,"teamCode":"nya","fileCode":"nyy","abbreviation":"NYY","teamName":"Yankees","locationName":"Bronx","firstYearOfPlay":"1903″,"league":"id":103,"name":"American League","link":"/api/v1/league/103″,"division":"id":201,"name":"American League East","link":"/api/v1/divisions/201″,"sport":"id":1,"link":"/api/v1/sports/1″,"name":"Major League Baseball","shortName":"NY Yankees","franchiseName":"New York","clubName":"Yankees","active":true,"springLeague":"id":114,"name":"Cactus League","link":"/api/v1/league/114″,"abbreviation":"CL","allStarStatus":"N","id":158,"name":"Milwaukee Brewers","link":"/api/v1/teams/158″,"season":2023,"venue":"id":32,"name":"American Family Field","link":"/api/v1/venues/32″,"location":"address1″:"One Brewers Way","city":"Milwaukee","state":"Wisconsin","stateAbbrev":"WI","postalCode":"53214″,"defaultCoordinates":"latitude":43.02838,"longitude":-87.97099,"country":"USA","phone":"(414) 902-4400″,"timeZone":"id":"America/Chicago","offset":-6,"tz":"CST","active":true,"season":"2023″,"springVenue":"id":2518,"link":"/api/v1/venues/2518″,"teamCode":"mil","fileCode":"mil","abbreviation":"MIL","teamName":"Brewers","locationName":"Milwaukee","firstYearOfPlay":"1968″,"league":"id":104,"name":"National League","link":"/api/v1/league/104″,"division":"id":205,"name":"National League Central","link":"/api/v1/divisions/205″,"sport":"id":1,"link":"/api/v1/sports/1″,"name":"Major League Baseball","shortName":"Milwaukee","franchiseName":"Milwaukee","clubName":"Brewers","active":true,"springLeague":"id":114,"name":"Cactus League","link":"/api/v1/league/114″,"abbreviation":"CL","allStarStatus":"N","id":108,"name":"Los Angeles Angels","link":"/api/v1/teams/108″,"season":2023,"venue":"id":1,"name":"Angel Stadium","link":"/api/v1/venues/1″,"location":"address1″:"2000 Gene Autry Way","city":"Anaheim","state":"California","stateAbbrev":"CA","postalCode":"92806″,"defaultCoordinates":"latitude":33.80019044,"longitude":-117.8823996,"country":"USA","phone":"(714) 940-2000″,"timeZone":"id":"America/Los_Angeles","offset":-8,"tz":"PST","active":true,"season":"2023″,"springVenue":"id":2500,"link":"/api/v1/venues/2500″,"teamCode":"ana","fileCode":"ana","abbreviation":"LAA","teamName":"Angels","locationName":"Anaheim","firstYearOfPlay":"1961″,"league":"id":103,"name":"American League","link":"/api/v1/league/103″,"division":"id":200,"name":"American League West","link":"/api/v1/divisions/200″,"sport":"id":1,"link":"/api/v1/sports/1″,"name":"Major League Baseball","shortName":"LA Angels","franchiseName":"Los Angeles","clubName":"Angels","active":true,"springLeague":"id":114,"name":"Cactus League","link":"/api/v1/league/114″,"abbreviation":"CL","allStarStatus":"N","id":109,"name":"Arizona Diamondbacks","link":"/api/v1/teams/109″,"season":2023,"venue":"id":15,"name":"Chase Field","link":"/api/v1/venues/15″,"location":"address1″:"401 East Jefferson Street","city":"Phoenix","state":"Arizona","stateAbbrev":"AZ","postalCode":"85004″,"defaultCoordinates":"latitude":33.445302,"longitude":-112.066687,"country":"USA","phone":"(602) 462-6500″,"timeZone":"id":"America/Phoenix","offset":-7,"tz":"MST","active":true,"season":"2023″,"springVenue":"id":4249,"link":"/api/v1/venues/4249″,"teamCode":"ari","fileCode":"ari","abbreviation":"AZ","teamName":"D-backs","locationName":"Phoenix","firstYearOfPlay":"1996″,"league":"id":104,"name":"National League","link":"/api/v1/league/104″,"division":"id":203,"name":"National League West","link":"/api/v1/divisions/203″,"sport":"id":1,"link":"/api/v1/sports/1″,"name":"Major League Baseball","shortName":"Arizona","franchiseName":"Arizona","clubName":"Diamondbacks","active":true,"springLeague":"id":115,"name":"Grapefruit League","link":"/api/v1/league/115″,"abbreviation":"GL","allStarStatus":"N","id":110,"name":"Baltimore Orioles","link":"/api/v1/teams/110″,"season":2023,"venue":"id":2,"name":"Oriole Park at Camden Yards","link":"/api/v1/venues/2″,"location":"address1″:"333 West Camden Street","city":"Baltimore","state":"Maryland","stateAbbrev":"MD","postalCode":"21201″,"defaultCoordinates":"latitude":39.283787,"longitude":-76.621689,"country":"USA","phone":"(410) 685-9800″,"timeZone":"id":"America/New_York","offset":-5,"tz":"EST","active":true,"season":"2023″,"springVenue":"id":2508,"link":"/api/v1/venues/2508″,"teamCode":"bal","fileCode":"bal","abbreviation":"BAL","teamName":"Orioles","locationName":"Baltimore","firstYearOfPlay":"1901″,"league":"id":103,"name":"American League","link":"/api/v1/league/103″,"division":"id":201,"name":"American League East","link":"/api/v1/divisions/201″,"sport":"id":1,"link":"/api/v1/sports/1″,"name":"Major League Baseball","shortName":"Baltimore","franchiseName":"Baltimore","clubName":"Orioles","active":true,"springLeague":"id":115,"name":"Grapefruit League","link":"/api/v1/league/115″,"abbreviation":"GL","allStarStatus":"N","id":111,"name":"Boston Red Sox","link":"/api/v1/teams/111″,"season":2023,"venue":"id":3,"name":"Fenway Park","link":"/api/v1/venues/3″,"location":"address1″:"4 Yawkey Way","city":"Boston","state":"Massachusetts","stateAbbrev":"MA","postalCode":"2215″,"defaultCoordinates":"latitude":42.346456,"longitude":-71.097441,"country":"USA","phone":"(617) 267-9440″,"timeZone":"id":"America/New_York","offset":-5,"tz":"EST","active":true,"season":"2023″,"springVenue":"id":4309,"link":"/api/v1/venues/4309″,"teamCode":"bos","fileCode":"bos","abbreviation":"BOS","teamName":"Red Sox","locationName":"Boston","firstYearOfPlay":"1901″,"league":"id":103,"name":"American League","link":"/api/v1/league/103″,"division":"id":201,"name":"American League East","link":"/api/v1/divisions/201″,"sport":"id":1,"link":"/api/v1/sports/1″,"name":"Major League Baseball","shortName":"Boston","franchiseName":"Boston","clubName":"Red Sox","active":true,"springLeague":"id":114,"name":"Cactus League","link":"/api/v1/league/114″,"abbreviation":"CL","allStarStatus":"N","id":112,"name":"Chicago Cubs","link":"/api/v1/teams/112″,"season":2023,"venue":"id":17,"name":"Wrigley Field","link":"/api/v1/venues/17″,"location":"address1″:"1060 West Addison","city":"Chicago","state":"Illinois","stateAbbrev":"IL","postalCode":"60613-4397″,"defaultCoordinates":"latitude":41.948171,"longitude":-87.655503,"country":"USA","phone":"(773) 404-2827″,"timeZone":"id":"America/Chicago","offset":-6,"tz":"CST","active":true,"season":"2023″,"springVenue":"id":4629,"link":"/api/v1/venues/4629″,"teamCode":"chn","fileCode":"chc","abbreviation":"CHC","teamName":"Cubs","locationName":"Chicago","firstYearOfPlay":"1874″,"league":"id":104,"name":"National League","link":"/api/v1/league/104″,"division":"id":205,"name":"National League Central","link":"/api/v1/divisions/205″,"sport":"id":1,"link":"/api/v1/sports/1″,"name":"Major League Baseball","shortName":"Chi Cubs","franchiseName":"Chicago","clubName":"Cubs","active":true,"springLeague":"id":114,"name":"Cactus League","link":"/api/v1/league/114″,"abbreviation":"CL","allStarStatus":"N","id":113,"name":"Cincinnati Reds","link":"/api/v1/teams/113″,"season":2023,"venue":"id":2602,"name":"Great American Ball Park","link":"/api/v1/venues/2602″,"location":"address1″:"100 Main Street","city":"Cincinnati","state":"Ohio","stateAbbrev":"OH","postalCode":"45202-4109″,"defaultCoordinates":"latitude":39.097389,"longitude":-84.506611,"country":"USA","phone":"(513) 765-7000″,"timeZone":"id":"America/New_York","offset":-5,"tz":"EST","active":true,"season":"2023″,"springVenue":"id":3834,"link":"/api/v1/venues/3834″,"teamCode":"cin","fileCode":"cin","abbreviation":"CIN","teamName":"Reds","locationName":"Cincinnati","firstYearOfPlay":"1882″,"league":"id":104,"name":"National League","link":"/api/v1/league/104″,"division":"id":205,"name":"National League Central","link":"/api/v1/divisions/205″,"sport":"id":1,"link":"/api/v1/sports/1″,"name":"Major League Baseball","shortName":"Cincinnati","franchiseName":"Cincinnati","clubName":"Reds","active":true,"springLeague":"id":114,"name":"Cactus League","link":"/api/v1/league/114″,"abbreviation":"CL","allStarStatus":"N","id":114,"name":"Cleveland Guardians","link":"/api/v1/teams/114″,"season":2023,"venue":"id":5,"name":"Progressive Field","link":"/api/v1/venues/5″,"location":"address1″:"2401 Ontario Street","city":"Cleveland","state":"Ohio","stateAbbrev":"OH","postalCode":"44115″,"defaultCoordinates":"latitude":41.495861,"longitude":-81.685255,"country":"USA","phone":"(216) 420-4200″,"timeZone":"id":"America/New_York","offset":-5,"tz":"EST","active":true,"season":"2023″,"springVenue":"id":3834,"link":"/api/v1/venues/3834″,"teamCode":"cle","fileCode":"cle","abbreviation":"CLE","teamName":"Guardians","locationName":"Cleveland","firstYearOfPlay":"1901″,"league":"id":103,"name":"American League","link":"/api/v1/league/103″,"division":"id":202,"name":"American League Central","link":"/api/v1/divisions/202″,"sport":"id":1,"link":"/api/v1/sports/1″,"name":"Major League Baseball","shortName":"Cleveland","franchiseName":"Cleveland","clubName":"Guardians","active":true,"springLeague":"id":114,"name":"Cactus League","link":"/api/v1/league/114″,"abbreviation":"CL","allStarStatus":"N","id":115,"name":"Colorado Rockies","link":"/api/v1/teams/115″,"season":2023,"venue":"id":19,"name":"Coors Field","link":"/api/v1/venues/19″,"location":"address1″:"2001 Blake Street","city":"Denver","state":"Colorado","stateAbbrev":"CO","postalCode":"80205-2000″,"defaultCoordinates":"latitude":39.756042,"longitude":-104.994136,"country":"USA","phone":"(303) 292-0200″,"timeZone":"id":"America/Denver","offset":-7,"tz":"MST","active":true,"season":"2023″,"springVenue":"id":4249,"link":"/api/v1/venues/4249″,"teamCode":"col","fileCode":"col","abbreviation":"COL","teamName":"Rockies","locationName":"Denver","firstYearOfPlay":"1992″,"league":"id":104,"name":"National League","link":"/api/v1/league/104″,"division":"id":203,"name":"National League West","link":"/api/v1/divisions/203″,"sport":"id":1,"link":"/api/v1/sports/1″,"name":"Major League Baseball","shortName":"Colorado","franchiseName":"Colorado","clubName":"Rockies","active":true,"springLeague":"id":115,"name":"Grapefruit League","link":"/api/v1/league/115″,"abbreviation":"GL","allStarStatus":"N","id":116,"name":"Detroit Tigers","link":"/api/v1/teams/116″,"season":2023,"venue":"id":2394,"name":"Comerica Park","link":"/api/v1/venues/2394″,"location":"address1″:"2100 Woodward Avenue","city":"Detroit","state":"Michigan","stateAbbrev":"MI","postalCode":"48201″,"defaultCoordinates":"latitude":42.3391151,"longitude":-83.048695,"country":"USA","phone":"(313) 471-2000″,"timeZone":"id":"America/Detroit","offset":-5,"tz":"EST","active":true,"season":"2023″,"springVenue":"id":2511,"link":"/api/v1/venues/2511″,"teamCode":"det","fileCode":"det","abbreviation":"DET","teamName":"Tigers","locationName":"Detroit","firstYearOfPlay":"1901″,"league":"id":103,"name":"American League","link":"/api/v1/league/103″,"division":"id":202,"name":"American League Central","link":"/api/v1/divisions/202″,"sport":"id":1,"link":"/api/v1/sports/1″,"name":"Major League Baseball","shortName":"Detroit","franchiseName":"Detroit","clubName":"Tigers","active":true,"springLeague":"id":115,"name":"Grapefruit League","link":"/api/v1/league/115″,"abbreviation":"GL","allStarStatus":"N","id":117,"name":"Houston Astros","link":"/api/v1/teams/117″,"season":2023,"venue":"id":2392,"name":"Minute Maid Park","link":"/api/v1/venues/2392″,"location":"address1″:"501 Crawford Street","city":"Houston","state":"Texas","stateAbbrev":"TX","postalCode":"77002″,"defaultCoordinates":"latitude":29.756967,"longitude":-95.355509,"country":"USA","phone":"(713) 259-8000″,"timeZone":"id":"America/Chicago","offset":-6,"tz":"CST","active":true,"season":"2023″,"springVenue":"id":5000,"link":"/api/v1/venues/5000″,"teamCode":"hou","fileCode":"hou","abbreviation":"HOU","teamName":"Astros","locationName":"Houston","firstYearOfPlay":"1962″,"league":"id":103,"name":"American League","link":"/api/v1/league/103″,"division":"id":200,"name":"American League West","link":"/api/v1/divisions/200″,"sport":"id":1,"link":"/api/v1/sports/1″,"name":"Major League Baseball","shortName":"Houston","franchiseName":"Houston","clubName":"Astros","active":true,"springLeague":"id":114,"name":"Cactus League","link":"/api/v1/league/114″,"abbreviation":"CL","allStarStatus":"N","id":118,"name":"Kansas City Royals","link":"/api/v1/teams/118″,"season":2023,"venue":"id":7,"name":"Kauffman Stadium","link":"/api/v1/venues/7″,"location":"address1″:"One Royal Way","city":"Kansas City","state":"Missouri","stateAbbrev":"MO","postalCode":"64129″,"defaultCoordinates":"latitude":39.051567,"longitude":-94.480483,"country":"USA","phone":"(816) 921-8000″,"timeZone":"id":"America/Chicago","offset":-6,"tz":"CST","active":true,"season":"2023″,"springVenue":"id":2603,"link":"/api/v1/venues/2603″,"teamCode":"kca","fileCode":"kc","abbreviation":"KC","teamName":"Royals","locationName":"Kansas City","firstYearOfPlay":"1968″,"league":"id":103,"name":"American League","link":"/api/v1/league/103″,"division":"id":202,"name":"American League Central","link":"/api/v1/divisions/202″,"sport":"id":1,"link":"/api/v1/sports/1″,"name":"Major League Baseball","shortName":"Kansas City","franchiseName":"Kansas City","clubName":"Royals","active":true,"springLeague":"id":114,"name":"Cactus League","link":"/api/v1/league/114″,"abbreviation":"CL","allStarStatus":"N","id":119,"name":"Los Angeles Dodgers","link":"/api/v1/teams/119″,"season":2023,"venue":"id":22,"name":"Dodger Stadium","link":"/api/v1/venues/22″,"location":"address1″:"1000 Vin Scully Avenue","city":"Los Angeles","state":"California","stateAbbrev":"CA","postalCode":"90012-1199″,"defaultCoordinates":"latitude":34.07368,"longitude":-118.24053,"country":"USA","phone":"(323) 224-1500″,"timeZone":"id":"America/Los_Angeles","offset":-8,"tz":"PST","active":true,"season":"2023″,"springVenue":"id":3809,"link":"/api/v1/venues/3809″,"teamCode":"lan","fileCode":"la","abbreviation":"LAD","teamName":"Dodgers","locationName":"Los Angeles","firstYearOfPlay":"1884″,"league":"id":104,"name":"National League","link":"/api/v1/league/104″,"division":"id":203,"name":"National League West","link":"/api/v1/divisions/203″,"sport":"id":1,"link":"/api/v1/sports/1″,"name":"Major League Baseball","shortName":"LA Dodgers","franchiseName":"Los Angeles","clubName":"Dodgers","active":true,"springLeague":"id":115,"name":"Grapefruit League","link":"/api/v1/league/115″,"abbreviation":"GL","allStarStatus":"N","id":120,"name":"Washington Nationals","link":"/api/v1/teams/120″,"season":2023,"venue":"id":3309,"name":"Nationals Park","link":"/api/v1/venues/3309″,"location":"address1″:"1500 South Capitol Street, SE","city":"Washington","state":"District of Columbia","stateAbbrev":"DC","postalCode":"20003-1507″,"defaultCoordinates":"latitude":38.872861,"longitude":-77.007501,"country":"USA","phone":"(202) 349-0400″,"timeZone":"id":"America/New_York","offset":-5,"tz":"EST","active":true,"season":"2023″,"springVenue":"id":5000,"link":"/api/v1/venues/5000″,"teamCode":"was","fileCode":"was","abbreviation":"WSH","teamName":"Nationals","locationName":"Washington","firstYearOfPlay":"1968″,"league":"id":104,"name":"National League","link":"/api/v1/league/104″,"division":"id":204,"name":"National League East","link":"/api/v1/divisions/204″,"sport":"id":1,"link":"/api/v1/sports/1″,"name":"Major League Baseball","shortName":"Washington","franchiseName":"Washington","clubName":"Nationals","active":true,"springLeague":"id":115,"name":"Grapefruit League","link":"/api/v1/league/115″,"abbreviation":"GL","allStarStatus":"N","id":121,"name":"New York Mets","link":"/api/v1/teams/121″,"season":2023,"venue":"id":3289,"name":"Citi Field","link":"/api/v1/venues/3289″,"location":"address1″:"Citi Field","city":"Flushing","state":"New York","stateAbbrev":"NY","postalCode":"11368″,"defaultCoordinates":"latitude":40.75753012,"longitude":-73.84559155,"country":"USA","phone":"(718) 507-6387″,"timeZone":"id":"America/New_York","offset":-5,"tz":"EST","active":true,"season":"2023″,"springVenue":"id":2856,"link":"/api/v1/venues/2856″,"teamCode":"nyn","fileCode":"nym","abbreviation":"NYM","teamName":"Mets","locationName":"Flushing","firstYearOfPlay":"1962″,"league":"id":104,"name":"National League","link":"/api/v1/league/104″,"division":"id":204,"name":"National League East","link":"/api/v1/divisions/204″,"sport":"id":1,"link":"/api/v1/sports/1″,"name":"Major League Baseball","shortName":"NY Mets","franchiseName":"New York","clubName":"Mets","active":true]},"graphqlVariables":"getInitialData":"contentfulLocale":"en-US","forgeLocale":"en-us","isApp":false,"preview":false,"storySlug":"carlos-correa-discusses-health-fitness-routine","teamId":"mlb","teamPropertiesId":"mlb-global-properties","teamPaletteId":"mlb-base-palette","getRelatedContent":"slug":"carlos-correa-discusses-health-fitness-routine","options":"locale":"en-us","teamId":"mlb","topicSlug":"","getTopic":"forgeLocale":"en-us","topicSlug":"","headerState":{"clubId":"mlb","deviceProperties":,"footerData":"instanceId":"db2f8fb2-78c8-4d3c-a328-9e91c349dfee","name":"global-footer","variables":[],"menuItems":["itemId":"aec375d3-3afa-4491-ab28-60b736f38982″,"text":"Terms of Use","properties":"link":"/official-information/terms-of-use","target":"_blank","menuItems":[],"itemId":"debe8dbf-de27-4eae-b7ec-adae43fc4642″,"text":"Privacy Policy","properties":"link":"/official-information/privacy-policy","menuItems":[],"itemId":"345a1847-cac1-43a4-91bf-70c21ecee681″,"text":"Legal Notices","properties":"link":"/official-information/legal-notices","menuItems":[],"itemId":"34014aad-1069-4bba-b22e-4b287a4f7df1″,"text":"Contact Us","properties":"link":"/official-information/contact","menuItems":[],"itemId":"65e06970-7f8e-4328-ad82-9d90df0f3e87″,"text":"Do not Sell or Share My Personal Data","properties":"link":"https://privacyportal.onetrust.com/webform/53a301ae-6882-46f9-af93-24f64f792aee/3251a424-8286-4725-9313-603f12c85a49″,"target":"_blank","menuItems":[],"itemId":"dd307e97-49c6-4f80-aff3-89a59696fb80″,"text":"Official Information","properties":,"menuItems":["itemId":"bdf571d3-e8bb-403b-bb5f-7f28a7127c74″,"text":"Official Info","properties":"link":"/official-information","menuItems":[],"itemId":"ecfd4d42-aa8d-4872-80a5-869c6b493018″,"text":"About MLB","properties":"link":"/official-information/about-mlb","menuItems":[],"itemId":"bb62de22-5c84-4cab-b9fb-5429ea9d647c","text":"Team Information","properties":"link":"https://www.mlb.com/team","menuItems":[],"itemId":"7cc37e2a-667c-4405-bd1f-87ad88bc4d9e","text":"Official Rules","properties":"link":"https://img.mlbstatic.com/mlb-images/image/upload/mlb/hhvryxqioipb87os1puw.pdf","target":"_blank","menuItems":[],"itemId":"e658056b-608b-4eee-a04a-43772f9e6bb4″,"text":"Replay Review Regulations","properties":"link":"/glossary/rules/replay-review","menuItems":[],"itemId":"d1ffda83-f016-4ba6-8f32-7cc7ce787a9c","text":"Umpires","properties":"link":"/official-information/umpires","menuItems":[],"itemId":"23dde9d7-6aba-4bec-a449-b1b4d5a5767c","text":"Advertise with Us","properties":"link":"/sponsorship","menuItems":[],"itemId":"bd193214-b4a4-4c4d-965e-1a55cdc2e0fb","text":"Press Releases","properties":"link":"/news/topic/mlb-press-releases","menuItems":[]],"itemId":"7a60a8fc-0c3c-4c87-b04b-2b57b6c9894c","text":"Help/Contact Us","properties":,"menuItems":["itemId":"efb27376-accc-4ca4-9017-c3309ee122d3″,"text":"Accessibility Information","properties":"link":"/official-information/accessibility","menuItems":[],"itemId":"cf3490fc-f093-4457-99a7-d2bc3f4d4cef","text":"Auctions Customer Service","properties":"link":"http://auctions.mlb.com/iSynApp/manageUserEmail!showEmailContactUsForm.action?sid=1101001″,"menuItems":[],"itemId":"c6867706-11b7-4634-a78e-b5d513948f43″,"text":"Harassment Policy","properties":"link":"/official-information/harassment-policy","menuItems":[],"itemId":"0e3932c9-beec-43f2-b712-66879a51ab63″,"text":"Help/Contact Us","properties":"link":"/official-information/contact","menuItems":[],"itemId":"6d4ebef1-3168-4b79-a237-9f36931d3a2c","text":"MLB App FAQs","properties":"link":"/apps/mlb-app/faq-apple","menuItems":[],"itemId":"4b3c6ee8-d4ae-4265-a7e7-7e5bea8cde28″,"text":"MLB.com Account Information","properties":"link":"/official-information/faqs","menuItems":[],"itemId":"4d33a7c1-38d5-4b3b-a999-53377f55738d","text":"MLB.TV Help Center","properties":"link":"/live-stream-games/help-center","menuItems":[],"itemId":"36f01834-7979-4a42-aa12-52439c2e320b","text":"Shop Help","properties":"link":"https://www.mlbshop.com/customer-help-desk/hd-1″,"menuItems":[]],"itemId":"6ca8b189-8c54-428f-9f79-3c357ef18469″,"text":"More MLB Sites & Affiliates","properties":,"menuItems":["itemId":"becc9309-94fc-491b-ad15-45f7c17f85a9″,"text":"MLB Players Alumni Association","properties":"link":"/mlbpaa","target":"","menuItems":[],"itemId":"9ff49c09-8a0d-41e6-b8b0-14f37f8e7f52″,"text":"MLB Players Association","properties":"link":"http://www.mlbplayers.com/","menuItems":[],"itemId":"022ec2ca-bb20-4543-9cdc-95ba3a4443ca","text":"Minor League Baseball","properties":"link":"https://www.milb.com/","menuItems":[],"itemId":"c6f9948e-3521-4788-83ed-b568f39e86aa","text":"MLB Network","properties":"link":"https://www.mlb.com/network","menuItems":[],"itemId":"de2ea389-0a29-4600-8048-b4261916183d","text":"Baseball Assistance Team","properties":"link":"/baseball-assistance-team","menuItems":[],"itemId":"6a47c1d6-35aa-4028-9825-7cfc34a3ea40″,"text":"Player Resource Center","properties":"link":"/player-resource-center","menuItems":[],"itemId":"75f0b763-612d-4557-ae38-227fb5b3b7f1″,"text":"Tickets.com","properties":"link":"http://www.tickets.com/","menuItems":[],"itemId":"cb410dd4-4ace-4b5b-be3e-4ae6d60cd20f","text":"YES Network","properties":"link":"https://www.yesnetwork.com/","menuItems":[],"itemId":"5c8f6196-a4d5-4ed5-b830-189580691d3e","text":"Australian Baseball League","properties":"link":"https://theabl.com.au/","menuItems":[],"itemId":"ab6fc805-0bb7-439b-8c3c-92c61b035387″,"text":"World Baseball Classic","properties":"link":"https://www.worldbaseballclassic.com/","menuItems":[],"itemId":"e218ed4d-89f9-4f7d-87e7-c05a3559cd74″,"text":"sabr.org","properties":"link":"http://sabr.org/","menuItems":[],"itemId":"158a95a6-bd4f-4654-b57f-465d3c356a55″,"text":"College Baseball Hall of Fame","properties":"link":"https://www.mlb.com/college-baseball-hall-of-fame","menuItems":[],"itemId":"2e494e91-a92e-4763-b89b-7944f37b1b3f","text":"Golden Spike Award","properties":"link":"https://www.usabaseball.com/golden-spikes-award","menuItems":[],"itemId":"ccd9020d-c619-45d2-bc1f-ef80ae2cd651″,"text":"USA Baseball","properties":"link":"https://www.usabaseball.com","menuItems":[],"itemId":"75512a93-d52d-4d71-a6d3-70d6b44dfa0f","text":"LasMayores.com","properties":"link":"https://www.mlb.com/es","menuItems":[],"itemId":"3b7bbad3-1ed5-468d-8703-205519315e04″,"text":"MLBCommunity.org","properties":"link":"/mlb-community","menuItems":[],"itemId":"f8058121-3606-4ff2-be8a-d1a3d47642db","text":"AllStarGame.com","properties":"link":"/all-star","menuItems":[],"itemId":"a624b4e5-c8d8-44b9-9084-7522ed0cee59″,"text":"MLB.com/Kids","properties":"link":"https://www.mlb.com/fans/kids","menuItems":[],"itemId":"43c6bc47-f7d9-445a-85a1-10b3cdc02ee0″,"text":"MLB Photostore","properties":"link":"https://photostore.mlb.com/","visible":"false","menuItems":[],"itemId":"c574a4a2-45ec-47fe-8ca3-b5b99d1cb443″,"text":"PlayBall.org","properties":"link":"https://www.playball.org","menuItems":[],"itemId":"517cf98f-063c-486a-a725-5380e1ae063f","text":"MLB Educators","properties":"link":"/mlb-educators","menuItems":[]],"itemId":"e3a86593-6da0-4d00-a512-0b8c78c9b8a5″,"text":"Careers","properties":"link":"","menuItems":["itemId":"35caab61-51c7-4b17-a9b8-e9ecd201058a","text":"Careers Home","properties":"link":"/careers/home","menuItems":[]]],"headerData":{"instanceId":"fbde1dcd-c837-4740-991c-1087d1db26d1″,"name":"global-nav","variables":[],"menuItems":["itemId":"668844d6-282b-4abb-a162-f6ffff905b11″,"text":"MLB.TV","properties":"customProperties":"align:right;","visible":"true","link":"https://www.mlb.com/tv?&affiliateId=mlbMENUtv","menuItems":["itemId":"43795314-dff1-48d7-8e49-a3d7acab203d","text":"Buy MLB.TV","properties":"link":"/live-stream-games/subscribe?&affiliateId=mlbMENUtv","visible":"true","menuItems":[],"itemId":"5b4ab21b-1d63-4eff-85f9-51075da5915a","text":"Buy At Bat","properties":"link":"/live-stream-games/subscribe/at-bat?&affiliateId=mlbMENUtv","visible":"true","menuItems":[],"itemId":"5e33e51f-2f87-4d40-bf50-cc1704688344″,"text":"Watch & Listen","properties":"link":"/live-stream-games?&affiliateID=mlbMENUtv","visible":"true","menuItems":[],"itemId":"c04b122c-66ec-4bfa-9e26-2e7f75bc915c","text":"Help Center","properties":"link":"/live-stream-games/help-center?&affiliateID=mlbMENUtv","visible":"true","menuItems":[]],"itemId":"tickets","text":"Tickets","properties":"link":"https://www.mlb.com/tickets","customProperties":"align:right;","menuItems":["itemId":"9ded5035-6394-4a4d-b0b4-8e966a524cbe","text":"Tickets Hub","properties":"link":"http://mlb.com/tickets?top-nav-dropdown","menuItems":[],"itemId":"b2956670-29de-4eb5-94db-7cbeecfb987f","text":"All-Star Tickets","properties":"link":"https://www.mlb.com/all-star/tickets?top-nav-dropdown","visible":"false","menuItems":[],"itemId":"020f5910-a69a-443a-b5a3-37b7664d8a4f","text":"Spring Training","properties":"link":"/tickets/spring-training","visible":"false","menuItems":[],"itemId":"524505d6-bf61-4819-8197-f62bc71fd518″,"text":"Postseason Tickets","properties":"link":"/tickets/postseason","visible":"false","menuItems":[]],"itemId":"6bfaf88e-891c-4e05-a935-8a32bd23086a","text":"Shop","properties":"link":"https://www.mlbshop.com/?_s=bm-mlbcom-hp","customProperties":"align:right;","icon":"shopping-cart","menuItems":["itemId":"91dcfa1d-f4de-4bf9-93f8-8f91f4069272″,"text":"MLB Online Shop","properties":"link":"https://www.mlbshop.com/?_s=bm-mlbcom-hp","customProperties":"","menuItems":[],"itemId":"d7b3c8e0-42c4-45c5-8278-c51adb21b47f","text":"Auction","properties":"link":"https://auctions.mlb.com/iSynApp/showHomePage.action?sid=1101001&isynsharedsession=9mislq-18JnZhOEp-FeGzvUB3G6zxwkeKqwX99MKAttEdaSACl02r4aCDzYhNvUm","visible":"true","menuItems":[],"itemId":"c69e35fc-900e-4fcc-9348-085aa0febeab","text":"Gift Cards","properties":"link":"https://www.mlbshop.com/gift-cards/x-462351+z-94899005-3509039474?_s=bm-mlbcom-Home","customProperties":"","menuItems":[],"itemId":"7423a9ca-3a6f-42fe-8d6e-9459bed284c7″,"text":"MLB NYC Flagship Store","properties":"link":"https://www.mlb.com/shop/nyc-retail-store","menuItems":[],"itemId":"44958e84-599e-44b1-96b4-44f38a477942″,"text":"European Shop","properties":"link":"http://www.mlbshopeurope.com/stores/mlb/en?portal=MLTS66FS&CMP=PSC-MLTS66FS","customProperties":"","menuItems":[],"itemId":"51d3278e-90fd-4462-aec0-7cfd8de1cb79″,"text":"Photo Store","properties":"link":"https://photostore.mlb.com/","visible":"true","menuItems":[]],"itemId":"5052bac6-3f1d-4847-8739-42021d7cfc2d","text":"News","properties":"link":"https://www.mlb.com/news","customProperties":"amp:true;mobile:true","menuItems":["itemId":"82d45c9a-d055-4ab4-b785-576d982a2077″,"text":"Probable Pitchers","properties":"link":"/probable-pitchers","visible":"false","enabled":"true","menuItems":[],"itemId":"d08f0874-ecb6-4378-93c6-be05b4397c21″,"text":"Hot Stove Tracker","properties":"link":"https://www.mlb.com/hot-stove","menuItems":[],"itemId":"29c52020-6ed2-45f6-8f8b-6d7e909a68c1″,"text":"Starting Lineups","properties":"link":"https://www.mlb.com/starting-lineups","menuItems":[],"itemId":"28522a27-ab22-43ed-84b4-1b4760c39535″,"text":"Transactions","properties":"link":"https://www.mlb.com/transactions","menuItems":[],"itemId":"6efef6dd-bb02-4811-85f8-c8088d743fae","text":"Postseason History","properties":"link":"https://www.mlb.com/postseason/history","menuItems":[],"itemId":"28a2e573-86ba-4cdc-a924-86d3b6500979″,"text":"Injury Report","properties":"link":"https://www.mlb.com/injury-report","visible":"true","menuItems":[],"itemId":"3f97e5c6-cd8f-4c42-9be1-b816ea9f47b1″,"text":"World Baseball Classic","properties":"link":"https://www.mlb.com/world-baseball-classic","menuItems":[],"itemId":"c1ac7886-1d18-4ad8-9fc4-326ab4753144″,"text":"MLB Draft","properties":"link":"https://www.mlb.com/draft/2023″,"visible":"true","menuItems":[],"itemId":"7e316d55-5379-4151-a0e5-828b6b4f8ba8″,"text":"All-Star Game","properties":"link":"https://www.mlb.com/all-star/","visible":"true","menuItems":[],"itemId":"de347a3e-0811-49db-aca7-d56d79b69cde","text":"MLB Pipeline","properties":"link":"https://www.mlb.com/pipeline","menuItems":[],"itemId":"6ee1c331-faa0-4865-a062-1c98a2f67c0d","text":"Great Stories","properties":"link":"https://www.mlb.com/news/topic/longform","visible":"true","menuItems":[]],"itemId":"ed72bef5-d993-4ffe-91d2-15abf6218c12″,"text":"Watch","properties":"link":"/tv?&affiliateId=mlbMENU","menuItems":["itemId":"d492eeb7-757f-4600-b3b3-77882293b208″,"text":"Video","properties":,"menuItems":["itemId":"5031c87a-7b97-4db0-a447-d29e556f380c","text":"Film Room","properties":"link":"https://www.mlb.com/video","menuItems":[],"itemId":"49538483-21da-4efb-9624-3b27c74823ad","text":"Statcast","properties":"link":"https://www.mlb.com/video/topic/statcast","menuItems":[],"itemId":"5dbfda08-1915-42bc-a899-61f8906ede30″,"text":"MLB Network","properties":"link":"https://www.mlb.com/network","menuItems":[],"itemId":"168e1c3a-56a8-49f4-8800-ef5ff3024c7d","text":"MLB Originals","properties":"link":"https://www.mlb.com/fans/mlb-originals","menuItems":[],"itemId":"527369c6-59ed-47ec-b41f-2b71444bfeee","text":"Podcasts","properties":"link":"https://www.mlb.com/fans/podcasts","menuItems":[]],"itemId":"5dd37289-4d79-4b66-8359-1c5d0954f7f1″,"text":"MLB.TV","properties":,"menuItems":["itemId":"6c2eca19-80b0-45e0-a481-53d6200992e3″,"text":"Watch & Listen Archives","properties":"link":"/live-stream-games?&affiliateID=mlbMENU","visible":"false","menuItems":[],"itemId":"1ff93fa1-3ae4-40e3-b263-f34d1e3a70e1″,"text":"Buy Offseason","properties":"link":"/live-stream-games/subscribe?&affiliateId=mlbMENU","visible":"false","menuItems":[],"itemId":"5df3aa62-4f5b-479c-9669-4736862d0100″,"text":"Buy MLB Audio","properties":"link":"/live-stream-games/subscribe/mlb-audio?&affiliateId=mlbMENU","visible":"false","menuItems":[],"itemId":"6410ddb0-717a-4b20-b24e-7ca0053c4f6c","text":"Buy MLB.TV","properties":"link":"/live-stream-games/subscribe?&affiliateId=mlbMENU","visible":"true","menuItems":[],"itemId":"970ab45a-756b-41ab-a415-7ca4763ec42e","text":"Buy At Bat","properties":"link":"/live-stream-games/subscribe/at-bat?&affiliateId=mlbMENU","visible":"true","menuItems":[],"itemId":"eb7e4c9b-2723-4af8-9e4c-c4f52be5efb2″,"text":"Watch & Listen","properties":"link":"/live-stream-games?&affiliateID=mlbMENU","visible":"true","menuItems":[],"itemId":"18ca0078-fb25-40f0-98b9-05c2a605965b","text":"Help Center","properties":"link":"/live-stream-games/help-center?&affiliateID=mlbMENU","menuItems":[]]],"itemId":"7c68f445-5095-46cc-bab3-73af6c921597″,"text":"Scores","properties":"link":"https://www.mlb.com/scores","customProperties":"mobile:true;amp:true;","visible":"true","menuItems":[],"itemId":"248fea7e-1d19-452a-bb5c-999e1a09b7cd","text":"Schedule","properties":"link":"https://www.mlb.com/schedule/2023-03-30″,"customProperties":"amp:true;mobile:true;","menuItems":["itemId":"d92068f1-fb82-4b03-ae27-10f3e812b6fa","text":"2023 Regular Season","properties":"link":"https://www.mlb.com/schedule/2023-03-30″,"menuItems":[],"itemId":"d50ca7f4-b653-4c3a-a63b-c653bff0bbdc","text":"2023 Spring Training","properties":"link":"https://www.mlb.com/schedule/2023-02-24″,"menuItems":[],"itemId":"f4010b7a-902c-41e0-b405-e0fa695b5c64″,"text":"2022 Regular Season","properties":"link":"https://www.mlb.com/schedule/2022-04-07″,"menuItems":[],"itemId":"2755030c-3503-4089-b6c2-b8e982459945″,"text":"2022 Postseason","properties":"link":"https://www.mlb.com/postseason","menuItems":[],"itemId":"94c9d7e4-3477-4217-87f3-008d2290b9ee","text":"Important Dates","properties":"link":"/schedule/events#important-dates","menuItems":[],"itemId":"3747c1bc-9b3d-43f5-bd04-d1274c59c02a","text":"Team by Team Schedule","properties":"link":"https://www.mlb.com/schedule/team-by-team","menuItems":[],"itemId":"e75ecc62-7e72-4b53-9705-a23e2b511f83″,"text":"National Broadcasts","properties":"link":"https://www.mlb.com/live-stream-games/national-broadcast-schedule","visible":"true","menuItems":[]],"itemId":"9efaf5e3-6a93-4e4f-b8af-1219110ecb30″,"text":"Stats","properties":"link":"https://www.mlb.com/stats","customProperties":"mobile:true;amp:true;","menuItems":["itemId":"41566816-1cb8-421f-9a4a-9ccdefa7ed69″,"text":"Statcast Leaders","properties":"link":"https://baseballsavant.mlb.com/statcast_leaderboard","menuItems":[],"itemId":"2d0a2684-64c6-4d9f-87a1-a7cf9f661e2f","text":"Baseball Savant","properties":"link":"https://baseballsavant.mlb.com/","menuItems":[],"itemId":"b9d0ae31-f31d-449b-82fb-5a77f59293ba","text":"Top Prospect Stats","properties":"link":"/prospects/stats/top-prospects?type=all&minPA=1″,"menuItems":[]],"itemId":"6af88ec1-9bfe-4494-abc0-898dc919a081″,"text":"Standings","properties":"link":"https://www.mlb.com/standings","customProperties":"amp:true;","menuItems":[],"itemId":"15179b67-af8e-42a1-964c-45944e1ab986″,"text":"Youth","properties":"link":"https://www.mlb.com/youth-baseball-softball","menuItems":["itemId":"0a04e27f-bcb1-4901-acc0-a14e9ebc5852″,"text":"Play Ball","properties":"link":"https://www.mlb.com/play-ball","menuItems":[],"itemId":"f989fcab-01fa-4d66-8e11-6640be070816″,"text":"Youth Baseball & Softball","properties":"link":"https://www.mlb.com/youth-baseball-softball","menuItems":[]],"itemId":"8c842eeb-dedd-430c-a452-57a740d5c3df","text":"Players","properties":"link":"https://www.mlb.com/players","customProperties":"","icon":"group","visible":"true","menuItems":["itemId":"2983d4a7-0410-41fe-8b08-35c866b373d5″,"text":"Prospect Rankings","properties":"link":"https://www.mlb.com/prospects","menuItems":[],"itemId":"1f929714-240b-4834-b859-8066a592fa8e","text":"Depth Charts","properties":"link":"https://www.mlb.com/team/roster/depth-chart","menuItems":[],"itemId":"a07b01b6-397e-450e-bd8d-7e00c6dd2a80″,"text":"MLB Players Association","properties":"link":"https://www.mlbplayers.com","menuItems":[],"itemId":"3de86763-c530-400b-a7de-1761c927d7bc","text":"Negro Leagues","properties":"link":"https://www.mlb.com/history/negro-leagues","menuItems":[]],"itemId":"98430c25-7924-4112-a70f-0b32fd31594f","text":"Teams","properties":"link":"https://www.mlb.com/team","customProperties":"amp:true;module:teammodule;align:right;","menuItems":["itemId":"9191834c-54c4-40a7-8aac-9745d3666084″,"text":"Team Module","properties":"customProperties":"module:teammodule;","menuItems":[]],"itemId":"397b9e10-6d65-4fc0-bbe6-8d07f5e8d3a8″,"text":"ES","properties":"link":"https://www.mlb.com/es","customProperties":"align:right;lang:es;label:Español","toolTip":"Español","menuItems":["itemId":"ceb83c80-eaf2-4dd4-bdc6-e23b1e11ae60″,"text":"日本語","properties":"link":"http://www.mlb.jp/","customProperties":"lang:ja","visible":"false","menuItems":[],"itemId":"27ac6728-00c1-4965-963b-05d33268fb50″,"text":"한국어","properties":"link":"https://www.mlbkor.com/","customProperties":"lang:ko","visible":"false","menuItems":[]]]},"locale":"en","reqPath":"/news/carlos-correa-discusses-health-fitness-routine","sharedNav":"instanceId":"6c265854-d856-4f92-aea1-07dfe5cda020″,"name":"shared-nav","variables":[],"menuItems":["itemId":"93b3e9b2-65a9-4585-9185-03e255cb523c","text":"MLB.TV","properties":"link":"https://www.mlb.com/tv?&affiliateId=clubMENU","icon":"watch","customProperties":"align:right;","menuItems":["itemId":"2d8d6ad8-dc2a-4971-9b12-f1853530c5d3″,"text":"Buy MLB.TV","properties":"link":"https://www.mlb.com/live-stream-games/subscribe?&affiliateId=clubMENU","menuItems":[],"itemId":"38c2991b-6331-469b-bce7-c53ab3267bc6″,"text":"Buy At Bat","properties":"link":"/live-stream-games/subscribe/mlb-audio?&affiliateId=clubMENU","menuItems":[],"itemId":"d54a2b21-9db9-4252-9ebe-e3a4b2a3cf83″,"text":"Watch & Listen","properties":"link":"https://www.mlb.com/live-stream-games?&affiliateId=clubMENU","menuItems":[],"itemId":"2f433cfb-699a-43bb-ab54-d3b4a7269d8e","text":"Watch MLB.TV Docs & Features","properties":"link":"https://www.mlb.com/tv/featured?&affiliateId=clubMENU","menuItems":[],"itemId":"6254640c-2069-4447-822f-084d0a38f161″,"text":"MLB.TV Help Center","properties":"link":"https://www.mlb.com/live-stream-games/help-center?&affiliateId=clubMENU","menuItems":[]],"itemId":"d54d0be0-f610-4f8b-90ac-c246c361e2e2″,"text":"Fantasy","properties":"link":"https://www.mlb.com/fantasy","customProperties":"","visible":"true","menuItems":["itemId":"5ec4bde4-6bc1-412b-a92b-6b7cb3b2f07c","text":"Yahoo Fantasy Baseball","properties":"link":"http://yhoo.it/3aK5QQw","visible":"false","target":"_blank","menuItems":[],"itemId":"b2a63b51-03fc-423d-971e-1e566f6008f4″,"text":"MLB Rally","properties":"link":"https://www.mlb.com/apps/rally","visible":"false","menuItems":[],"itemId":"f6929b88-632d-4a6f-ba73-8a64fccba1b0″,"text":"MLB Quick Pick","properties":"link":"https://www.mlb.com/apps/rally/quickpick","visible":"false","menuItems":[],"itemId":"0ebe9e5d-3fc7-48d2-acb1-c33eb931b911″,"text":"MLB Beat the Streak","properties":"link":"https://www.mlb.com/apps/beat-the-streak","visible":"false","menuItems":[],"itemId":"086bd307-a929-4414-9dd7-09bdac8d3f2e","text":"MLB MOONBLASTS Pick 'Em","properties":"link":"https://www.mlb.com/sponsorship/ftx-moonblasts-pick-em","customProperties":"expires:1627754400″,"visible":"false","menuItems":[],"itemId":"14aa1d4b-0193-4670-a1fc-b4386d4977e8″,"text":"The Vault","properties":"link":"https://www.mlb.com/the-vault","visible":"false","menuItems":[],"itemId":"4e0abdd4-8a0f-4bc5-838f-91dd2796041e","text":"MLB Home Run Derby","properties":"link":"https://www.mlb.com/fantasy/home-run-derby","menuItems":[],"itemId":"7d8dfda7-345a-46fa-82dc-105068ba223e","text":"Season Pick 'Em","properties":"link":"https://www.mlb.com/season-pick-em?affiliateId=spe-fantasynav-club-2021″,"visible":"false","menuItems":[],"itemId":"6eda396d-199b-4772-b3c9-c0b032513b6c","text":"MLB Pre-Pick (AUS)","properties":"customProperties":"","link":"https://www.mlb.com/pre-pick/tab","visible":"false","menuItems":[],"itemId":"9f1ff266-0ed8-4adb-ba77-428d1871b237″,"text":"Closer Report","properties":"link":"https://www.mlb.com/closer-report","visible":"false","menuItems":[],"itemId":"4c4f57bd-e31a-46c9-8f73-0fa2227451d3″,"text":"Prospect Rankings","properties":"link":"https://www.mlb.com/prospects","menuItems":[],"itemId":"1ebe4dc3-2c6a-469f-be59-474fe14dbbd7″,"text":"MLB Champions","properties":"link":"https://www.mlbc.app/?ref=mlbcom","target":"_blank","visible":"false","menuItems":[]],"itemId":"d1f61f89-9fd0-4f03-be17-2c5e128711a4″,"text":"Apps","properties":"link":"/apps","menuItems":["itemId":"83ac2ddf-414b-47d1-afec-ffacd068ab57″,"text":"MLB","properties":"link":"/apps/mlb-app","menuItems":[],"itemId":"83dbba73-02ac-4ba0-bebf-2c62ef04c19e","text":"MLB Rally","properties":"link":"https://www.mlb.com/apps/rally","visible":"false","menuItems":[],"itemId":"26fda476-348c-4f42-aa7c-92d1f9b1bf5c","text":"MLB Beat the Streak","properties":"link":"https://www.mlb.com/apps/beat-the-streak","visible":"false","menuItems":[],"itemId":"e09e6978-fcf7-4c2f-8387-59d83b7be38e","text":"MLB Ballpark","properties":"link":"/apps/ballpark","menuItems":[],"itemId":"86320a6b-11a1-4312-8eeb-a6c44f293f6c","text":"MLB Play","properties":"link":"https://www.mlb.com/play","menuItems":[],"itemId":"5e7b8019-9484-4872-abd7-8b963cd5969e","text":"MiLB First Pitch","properties":"link":"https://www.milb.com/about/first-pitch","menuItems":[],"itemId":"4fd8c1f8-a753-4501-916c-663390f1a566″,"text":"MLB Home Run Derby","properties":"link":"https://www.mlb.com/fantasy/home-run-derby","menuItems":[],"itemId":"9d8dfe8b-be1a-4ebf-9509-6bd0165a868e","text":"MLB FAQs","properties":"link":"/apps/mlb-app/faq-apple","menuItems":[],"itemId":"df4e8527-e357-4272-bcf7-61876ed9455d","text":"MLB Ballpark FAQs","properties":"link":"/apps/ballpark/faq-apple","visible":"true","menuItems":[],"itemId":"0ee38329-4c3c-48f5-86c7-04a58c24c006″,"text":"MLB Play FAQs","properties":"link":"https://www.mlb.com/help/play/frequently-asked-questions","menuItems":[],"itemId":"c2943c65-a843-437a-9ef4-4ccfe5be088f","text":"MLB Rally FAQs","properties":"link":"https://www.mlb.com/apps/rally/faq-apple","visible":"false","menuItems":[]]],"styleProps":,"teamNameSlug":"","teamsData":["springLeague":"id":114,"name":"Cactus League","link":"/api/v1/league/114″,"abbreviation":"CL","allStarStatus":"N","id":133,"name":"Oakland Athletics","link":"/api/v1/teams/133″,"season":2023,"venue":"id":10,"name":"Oakland Coliseum","link":"/api/v1/venues/10″,"location":"address1″:"7000 Coliseum Way","city":"Oakland","state":"California","stateAbbrev":"CA","postalCode":"94621″,"defaultCoordinates":"latitude":37.751511,"longitude":-122.200698,"country":"USA","phone":"(510) 638-4900″,"timeZone":"id":"America/Los_Angeles","offset":-8,"tz":"PST","active":true,"season":"2023″,"springVenue":"id":2507,"link":"/api/v1/venues/2507″,"teamCode":"oak","fileCode":"oak","abbreviation":"OAK","teamName":"Athletics","locationName":"Oakland","firstYearOfPlay":"1901″,"league":"id":103,"name":"American League","link":"/api/v1/league/103″,"division":"id":200,"name":"American League West","link":"/api/v1/divisions/200″,"sport":"id":1,"link":"/api/v1/sports/1″,"name":"Major League Baseball","shortName":"Oakland","franchiseName":"Oakland","clubName":"Athletics","active":true,"springLeague":"id":115,"name":"Grapefruit League","link":"/api/v1/league/115″,"abbreviation":"GL","allStarStatus":"N","id":134,"name":"Pittsburgh Pirates","link":"/api/v1/teams/134″,"season":2023,"venue":"id":31,"name":"PNC Park","link":"/api/v1/venues/31″,"location":"address1″:"115 Federal Street","city":"Pittsburgh","state":"Pennsylvania","stateAbbrev":"PA","postalCode":"15212″,"defaultCoordinates":"latitude":40.446904,"longitude":-80.005753,"country":"USA","phone":"(412) 323-5000″,"timeZone":"id":"America/New_York","offset":-5,"tz":"EST","active":true,"season":"2023″,"springVenue":"id":2526,"link":"/api/v1/venues/2526″,"teamCode":"pit","fileCode":"pit","abbreviation":"PIT","teamName":"Pirates","locationName":"Pittsburgh","firstYearOfPlay":"1882″,"league":"id":104,"name":"National League","link":"/api/v1/league/104″,"division":"id":205,"name":"National League Central","link":"/api/v1/divisions/205″,"sport":"id":1,"link":"/api/v1/sports/1″,"name":"Major League Baseball","shortName":"Pittsburgh","franchiseName":"Pittsburgh","clubName":"Pirates","active":true,"springLeague":"id":114,"name":"Cactus League","link":"/api/v1/league/114″,"abbreviation":"CL","allStarStatus":"N","id":135,"name":"San Diego Padres","link":"/api/v1/teams/135″,"season":2023,"venue":"id":2680,"name":"Petco Park","link":"/api/v1/venues/2680″,"location":"address1″:"100 Park Boulevard","city":"San Diego","state":"California","stateAbbrev":"CA","postalCode":"92101″,"defaultCoordinates":"latitude":32.707861,"longitude":-117.157278,"country":"USA","phone":"(619) 795-5000″,"timeZone":"id":"America/Los_Angeles","offset":-8,"tz":"PST","active":true,"season":"2023″,"springVenue":"id":2530,"link":"/api/v1/venues/2530″,"teamCode":"sdn","fileCode":"sd","abbreviation":"SD","teamName":"Padres","locationName":"San Diego","firstYearOfPlay":"1968″,"league":"id":104,"name":"National League","link":"/api/v1/league/104″,"division":"id":203,"name":"National League West","link":"/api/v1/divisions/203″,"sport":"id":1,"link":"/api/v1/sports/1″,"name":"Major League Baseball","shortName":"San Diego","franchiseName":"San Diego","clubName":"Padres","active":true,"springLeague":"id":114,"name":"Cactus League","link":"/api/v1/league/114″,"abbreviation":"CL","allStarStatus":"N","id":136,"name":"Seattle Mariners","link":"/api/v1/teams/136″,"season":2023,"venue":"id":680,"name":"T-Mobile Park","link":"/api/v1/venues/680″,"location":"address1″:"P.O. Box 4100″,"city":"Seattle","state":"Washington","stateAbbrev":"WA","postalCode":"98104″,"defaultCoordinates":"latitude":47.591333,"longitude":-122.33251,"country":"USA","phone":"(206) 346-4000″,"timeZone":"id":"America/Los_Angeles","offset":-8,"tz":"PST","active":true,"season":"2023″,"springVenue":"id":2530,"link":"/api/v1/venues/2530″,"teamCode":"sea","fileCode":"sea","abbreviation":"SEA","teamName":"Mariners","locationName":"Seattle","firstYearOfPlay":"1977″,"league":"id":103,"name":"American League","link":"/api/v1/league/103″,"division":"id":200,"name":"American League West","link":"/api/v1/divisions/200″,"sport":"id":1,"link":"/api/v1/sports/1″,"name":"Major League Baseball","shortName":"Seattle","franchiseName":"Seattle","clubName":"Mariners","active":true,"springLeague":"id":114,"name":"Cactus League","link":"/api/v1/league/114″,"abbreviation":"CL","allStarStatus":"N","id":137,"name":"San Francisco Giants","link":"/api/v1/teams/137″,"season":2023,"venue":"id":2395,"name":"Oracle Park","link":"/api/v1/venues/2395″,"location":"address1″:"24 Willie Mays Plaza","city":"San Francisco","state":"California","stateAbbrev":"CA","postalCode":"94107″,"defaultCoordinates":"latitude":37.778383,"longitude":-122.389448,"country":"USA","phone":"(415) 972-2000″,"timeZone":"id":"America/Los_Angeles","offset":-8,"tz":"PST","active":true,"season":"2023″,"springVenue":"id":2532,"link":"/api/v1/venues/2532″,"teamCode":"sfn","fileCode":"sf","abbreviation":"SF","teamName":"Giants","locationName":"San Francisco","firstYearOfPlay":"1883″,"league":"id":104,"name":"National League","link":"/api/v1/league/104″,"division":"id":203,"name":"National League West","link":"/api/v1/divisions/203″,"sport":"id":1,"link":"/api/v1/sports/1″,"name":"Major League Baseball","shortName":"San Francisco","franchiseName":"San Francisco","clubName":"Giants","active":true,"springLeague":"id":115,"name":"Grapefruit League","link":"/api/v1/league/115″,"abbreviation":"GL","allStarStatus":"N","id":138,"name":"St. Louis Cardinals","link":"/api/v1/teams/138″,"season":2023,"venue":"id":2889,"name":"Busch Stadium","link":"/api/v1/venues/2889″,"location":"address1″:"700 Clark Street","city":"St. Louis","state":"Missouri","stateAbbrev":"MO","postalCode":"63102″,"defaultCoordinates":"latitude":38.62256667,"longitude":-90.19286667,"country":"USA","phone":"(314) 345-9600″,"timeZone":"id":"America/Chicago","offset":-6,"tz":"CST","active":true,"season":"2023″,"springVenue":"id":2520,"link":"/api/v1/venues/2520″,"teamCode":"sln","fileCode":"stl","abbreviation":"STL","teamName":"Cardinals","locationName":"St. Louis","firstYearOfPlay":"1892″,"league":"id":104,"name":"National League","link":"/api/v1/league/104″,"division":"id":205,"name":"National League Central","link":"/api/v1/divisions/205″,"sport":"id":1,"link":"/api/v1/sports/1″,"name":"Major League Baseball","shortName":"St. Louis","franchiseName":"St. Louis","clubName":"Cardinals","active":true,"springLeague":"id":115,"name":"Grapefruit League","link":"/api/v1/league/115″,"abbreviation":"GL","allStarStatus":"N","id":139,"name":"Tampa Bay Rays","link":"/api/v1/teams/139″,"season":2023,"venue":"id":12,"name":"Tropicana Field","link":"/api/v1/venues/12″,"location":"address1″:"One Tropicana Drive","city":"St. Petersburg","state":"Florida","stateAbbrev":"FL","postalCode":"33705″,"defaultCoordinates":"latitude":27.767778,"longitude":-82.6525,"country":"USA","phone":"(727) 825-3137″,"timeZone":"id":"America/New_York","offset":-5,"tz":"EST","active":true,"season":"2023″,"springVenue":"id":2534,"link":"/api/v1/venues/2534″,"teamCode":"tba","fileCode":"tb","abbreviation":"TB","teamName":"Rays","locationName":"St. Petersburg","firstYearOfPlay":"1996″,"league":"id":103,"name":"American League","link":"/api/v1/league/103″,"division":"id":201,"name":"American League East","link":"/api/v1/divisions/201″,"sport":"id":1,"link":"/api/v1/sports/1″,"name":"Major League Baseball","shortName":"Tampa Bay","franchiseName":"Tampa Bay","clubName":"Rays","active":true,"springLeague":"id":114,"name":"Cactus League","link":"/api/v1/league/114″,"abbreviation":"CL","allStarStatus":"N","id":140,"name":"Texas Rangers","link":"/api/v1/teams/140″,"season":2023,"venue":"id":5325,"name":"Globe Life Field","link":"/api/v1/venues/5325″,"location":"address1″:"734 Stadium Drive","city":"Arlington","state":"Texas","stateAbbrev":"TX","postalCode":"76011″,"defaultCoordinates":"latitude":32.747299,"longitude":-97.081818,"country":"USA","phone":"(817) 533-1972″,"timeZone":"id":"America/Chicago","offset":-6,"tz":"CST","active":true,"season":"2023″,"springVenue":"id":2603,"link":"/api/v1/venues/2603″,"teamCode":"tex","fileCode":"tex","abbreviation":"TEX","teamName":"Rangers","locationName":"Arlington","firstYearOfPlay":"1961″,"league":"id":103,"name":"American League","link":"/api/v1/league/103″,"division":"id":200,"name":"American League West","link":"/api/v1/divisions/200″,"sport":"id":1,"link":"/api/v1/sports/1″,"name":"Major League Baseball","shortName":"Texas","franchiseName":"Texas","clubName":"Rangers","active":true,"springLeague":"id":115,"name":"Grapefruit League","link":"/api/v1/league/115″,"abbreviation":"GL","allStarStatus":"N","id":141,"name":"Toronto Blue Jays","link":"/api/v1/teams/141″,"season":2023,"venue":"id":14,"name":"Rogers Centre","link":"/api/v1/venues/14″,"location":"address1″:"1 Blue Jays Way, Suite 3200″,"city":"Toronto","state":"Ontario","stateAbbrev":"ON","postalCode":"M5V1J1″,"defaultCoordinates":"latitude":43.64155,"longitude":-79.38915,"country":"Canada","phone":"(416) 341-1000″,"timeZone":"id":"America/Toronto","offset":-5,"tz":"EST","active":true,"season":"2023″,"springVenue":"id":2536,"link":"/api/v1/venues/2536″,"teamCode":"tor","fileCode":"tor","abbreviation":"TOR","teamName":"Blue Jays","locationName":"Toronto","firstYearOfPlay":"1977″,"league":"id":103,"name":"American League","link":"/api/v1/league/103″,"division":"id":201,"name":"American League East","link":"/api/v1/divisions/201″,"sport":"id":1,"link":"/api/v1/sports/1″,"name":"Major League Baseball","shortName":"Toronto","franchiseName":"Toronto","clubName":"Blue Jays","active":true,"springLeague":"id":115,"name":"Grapefruit League","link":"/api/v1/league/115″,"abbreviation":"GL","allStarStatus":"N","id":142,"name":"Minnesota Twins","link":"/api/v1/teams/142″,"season":2023,"venue":"id":3312,"name":"Target Field","link":"/api/v1/venues/3312″,"location":"address1″:"1 Twins Way","city":"Minneapolis","state":"Minnesota","stateAbbrev":"MN","postalCode":"55403″,"defaultCoordinates":"latitude":44.981829,"longitude":-93.277891,"country":"USA","phone":"(612) 659-3400″,"timeZone":"id":"America/Chicago","offset":-6,"tz":"CST","active":true,"season":"2023″,"springVenue":"id":2862,"link":"/api/v1/venues/2862″,"teamCode":"min","fileCode":"min","abbreviation":"MIN","teamName":"Twins","locationName":"Minneapolis","firstYearOfPlay":"1901″,"league":"id":103,"name":"American League","link":"/api/v1/league/103″,"division":"id":202,"name":"American League Central","link":"/api/v1/divisions/202″,"sport":"id":1,"link":"/api/v1/sports/1″,"name":"Major League Baseball","shortName":"Minnesota","franchiseName":"Minnesota","clubName":"Twins","active":true,"springLeague":"id":115,"name":"Grapefruit League","link":"/api/v1/league/115″,"abbreviation":"GL","allStarStatus":"N","id":143,"name":"Philadelphia Phillies","link":"/api/v1/teams/143″,"season":2023,"venue":"id":2681,"name":"Citizens Bank Park","link":"/api/v1/venues/2681″,"location":"address1″:"One Citizens Bank Way","city":"Philadelphia","state":"Pennsylvania","stateAbbrev":"PA","postalCode":"19148″,"defaultCoordinates":"latitude":39.90539086,"longitude":-75.16716957,"country":"USA","phone":"(215) 463-6000″,"timeZone":"id":"America/New_York","offset":-5,"tz":"EST","active":true,"season":"2023″,"springVenue":"id":2700,"link":"/api/v1/venues/2700″,"teamCode":"phi","fileCode":"phi","abbreviation":"PHI","teamName":"Phillies","locationName":"Philadelphia","firstYearOfPlay":"1883″,"league":"id":104,"name":"National League","link":"/api/v1/league/104″,"division":"id":204,"name":"National League East","link":"/api/v1/divisions/204″,"sport":"id":1,"link":"/api/v1/sports/1″,"name":"Major League Baseball","shortName":"Philadelphia","franchiseName":"Philadelphia","clubName":"Phillies","active":true,"springLeague":"id":115,"name":"Grapefruit League","link":"/api/v1/league/115″,"abbreviation":"GL","allStarStatus":"N","id":144,"name":"Atlanta Braves","link":"/api/v1/teams/144″,"season":2023,"venue":"id":4705,"name":"Truist Park","link":"/api/v1/venues/4705″,"location":"address1″:"755 Battery Avenue","city":"Atlanta","state":"Georgia","stateAbbrev":"GA","postalCode":"30339″,"defaultCoordinates":"latitude":33.890672,"longitude":-84.467641,"country":"USA","timeZone":"id":"America/New_York","offset":-5,"tz":"EST","active":true,"season":"2023″,"springVenue":"id":5380,"link":"/api/v1/venues/5380″,"teamCode":"atl","fileCode":"atl","abbreviation":"ATL","teamName":"Braves","locationName":"Atlanta","firstYearOfPlay":"1871″,"league":"id":104,"name":"National League","link":"/api/v1/league/104″,"division":"id":204,"name":"National League East","link":"/api/v1/divisions/204″,"sport":"id":1,"link":"/api/v1/sports/1″,"name":"Major League Baseball","shortName":"Atlanta","franchiseName":"Atlanta","clubName":"Braves","active":true,"springLeague":"id":114,"name":"Cactus League","link":"/api/v1/league/114″,"abbreviation":"CL","allStarStatus":"N","id":145,"name":"Chicago White Sox","link":"/api/v1/teams/145″,"season":2023,"venue":"id":4,"name":"Guaranteed Rate Field","link":"/api/v1/venues/4″,"location":"address1″:"333 West 35th Street","city":"Chicago","state":"Illinois","stateAbbrev":"IL","postalCode":"60616″,"defaultCoordinates":"latitude":41.83,"longitude":-87.634167,"country":"USA","phone":"(312) 674-1000″,"timeZone":"id":"America/Chicago","offset":-6,"tz":"CST","active":true,"season":"2023″,"springVenue":"id":3809,"link":"/api/v1/venues/3809″,"teamCode":"cha","fileCode":"cws","abbreviation":"CWS","teamName":"White Sox","locationName":"Chicago","firstYearOfPlay":"1901″,"league":"id":103,"name":"American League","link":"/api/v1/league/103″,"division":"id":202,"name":"American League Central","link":"/api/v1/divisions/202″,"sport":"id":1,"link":"/api/v1/sports/1″,"name":"Major League Baseball","shortName":"Chi White Sox","franchiseName":"Chicago","clubName":"White Sox","active":true,"springLeague":"id":115,"name":"Grapefruit League","link":"/api/v1/league/115″,"abbreviation":"GL","allStarStatus":"N","id":146,"name":"Miami Marlins","link":"/api/v1/teams/146″,"season":2023,"venue":"id":4169,"name":"loanDepot park","link":"/api/v1/venues/4169″,"location":"address1″:"501 Marlins Way","city":"Miami","state":"Florida","stateAbbrev":"FL","postalCode":"33125″,"defaultCoordinates":"latitude":25.77796236,"longitude":-80.21951795,"country":"USA","timeZone":"id":"America/New_York","offset":-5,"tz":"EST","active":true,"season":"2023″,"springVenue":"id":2520,"link":"/api/v1/venues/2520″,"teamCode":"mia","fileCode":"mia","abbreviation":"MIA","teamName":"Marlins","locationName":"Miami","firstYearOfPlay":"1991″,"league":"id":104,"name":"National League","link":"/api/v1/league/104″,"division":"id":204,"name":"National League East","link":"/api/v1/divisions/204″,"sport":"id":1,"link":"/api/v1/sports/1″,"name":"Major League Baseball","shortName":"Miami","franchiseName":"Miami","clubName":"Marlins","active":true,"springLeague":"id":115,"name":"Grapefruit League","link":"/api/v1/league/115″,"abbreviation":"GL","allStarStatus":"N","id":147,"name":"New York Yankees","link":"/api/v1/teams/147″,"season":2023,"venue":"id":3313,"name":"Yankee Stadium","link":"/api/v1/venues/3313″,"location":"address1″:"One East 161st Street","city":"Bronx","state":"New York","stateAbbrev":"NY","postalCode":"10451″,"defaultCoordinates":"latitude":40.82919482,"longitude":-73.9264977,"country":"USA","phone":"(718) 293-4300″,"timeZone":"id":"America/New_York","offset":-5,"tz":"EST","active":true,"season":"2023″,"springVenue":"id":2523,"link":"/api/v1/venues/2523″,"teamCode":"nya","fileCode":"nyy","abbreviation":"NYY","teamName":"Yankees","locationName":"Bronx","firstYearOfPlay":"1903″,"league":"id":103,"name":"American League","link":"/api/v1/league/103″,"division":"id":201,"name":"American League East","link":"/api/v1/divisions/201″,"sport":"id":1,"link":"/api/v1/sports/1″,"name":"Major League Baseball","shortName":"NY Yankees","franchiseName":"New York","clubName":"Yankees","active":true,"springLeague":"id":114,"name":"Cactus League","link":"/api/v1/league/114″,"abbreviation":"CL","allStarStatus":"N","id":158,"name":"Milwaukee Brewers","link":"/api/v1/teams/158″,"season":2023,"venue":"id":32,"name":"American Family Field","link":"/api/v1/venues/32″,"location":"address1″:"One Brewers Way","city":"Milwaukee","state":"Wisconsin","stateAbbrev":"WI","postalCode":"53214″,"defaultCoordinates":"latitude":43.02838,"longitude":-87.97099,"country":"USA","phone":"(414) 902-4400″,"timeZone":"id":"America/Chicago","offset":-6,"tz":"CST","active":true,"season":"2023″,"springVenue":"id":2518,"link":"/api/v1/venues/2518″,"teamCode":"mil","fileCode":"mil","abbreviation":"MIL","teamName":"Brewers","locationName":"Milwaukee","firstYearOfPlay":"1968″,"league":"id":104,"name":"National League","link":"/api/v1/league/104″,"division":"id":205,"name":"National League Central","link":"/api/v1/divisions/205″,"sport":"id":1,"link":"/api/v1/sports/1″,"name":"Major League Baseball","shortName":"Milwaukee","franchiseName":"Milwaukee","clubName":"Brewers","active":true,"springLeague":"id":114,"name":"Cactus League","link":"/api/v1/league/114″,"abbreviation":"CL","allStarStatus":"N","id":108,"name":"Los Angeles Angels","link":"/api/v1/teams/108″,"season":2023,"venue":"id":1,"name":"Angel Stadium","link":"/api/v1/venues/1″,"location":"address1″:"2000 Gene Autry Way","city":"Anaheim","state":"California","stateAbbrev":"CA","postalCode":"92806″,"defaultCoordinates":"latitude":33.80019044,"longitude":-117.8823996,"country":"USA","phone":"(714) 940-2000″,"timeZone":"id":"America/Los_Angeles","offset":-8,"tz":"PST","active":true,"season":"2023″,"springVenue":"id":2500,"link":"/api/v1/venues/2500″,"teamCode":"ana","fileCode":"ana","abbreviation":"LAA","teamName":"Angels","locationName":"Anaheim","firstYearOfPlay":"1961″,"league":"id":103,"name":"American League","link":"/api/v1/league/103″,"division":"id":200,"name":"American League West","link":"/api/v1/divisions/200″,"sport":"id":1,"link":"/api/v1/sports/1″,"name":"Major League Baseball","shortName":"LA Angels","franchiseName":"Los Angeles","clubName":"Angels","active":true,"springLeague":"id":114,"name":"Cactus League","link":"/api/v1/league/114″,"abbreviation":"CL","allStarStatus":"N","id":109,"name":"Arizona Diamondbacks","link":"/api/v1/teams/109″,"season":2023,"venue":"id":15,"name":"Chase Field","link":"/api/v1/venues/15″,"location":"address1″:"401 East Jefferson Street","city":"Phoenix","state":"Arizona","stateAbbrev":"AZ","postalCode":"85004″,"defaultCoordinates":"latitude":33.445302,"longitude":-112.066687,"country":"USA","phone":"(602) 462-6500″,"timeZone":"id":"America/Phoenix","offset":-7,"tz":"MST","active":true,"season":"2023″,"springVenue":"id":4249,"link":"/api/v1/venues/4249″,"teamCode":"ari","fileCode":"ari","abbreviation":"AZ","teamName":"D-backs","locationName":"Phoenix","firstYearOfPlay":"1996″,"league":"id":104,"name":"National League","link":"/api/v1/league/104″,"division":"id":203,"name":"National League West","link":"/api/v1/divisions/203″,"sport":"id":1,"link":"/api/v1/sports/1″,"name":"Major League Baseball","shortName":"Arizona","franchiseName":"Arizona","clubName":"Diamondbacks","active":true,"springLeague":"id":115,"name":"Grapefruit League","link":"/api/v1/league/115″,"abbreviation":"GL","allStarStatus":"N","id":110,"name":"Baltimore Orioles","link":"/api/v1/teams/110″,"season":2023,"venue":"id":2,"name":"Oriole Park at Camden Yards","link":"/api/v1/venues/2″,"location":"address1″:"333 West Camden Street","city":"Baltimore","state":"Maryland","stateAbbrev":"MD","postalCode":"21201″,"defaultCoordinates":"latitude":39.283787,"longitude":-76.621689,"country":"USA","phone":"(410) 685-9800″,"timeZone":"id":"America/New_York","offset":-5,"tz":"EST","active":true,"season":"2023″,"springVenue":"id":2508,"link":"/api/v1/venues/2508″,"teamCode":"bal","fileCode":"bal","abbreviation":"BAL","teamName":"Orioles","locationName":"Baltimore","firstYearOfPlay":"1901″,"league":"id":103,"name":"American League","link":"/api/v1/league/103″,"division":"id":201,"name":"American League East","link":"/api/v1/divisions/201″,"sport":"id":1,"link":"/api/v1/sports/1″,"name":"Major League Baseball","shortName":"Baltimore","franchiseName":"Baltimore","clubName":"Orioles","active":true,"springLeague":"id":115,"name":"Grapefruit League","link":"/api/v1/league/115″,"abbreviation":"GL","allStarStatus":"N","id":111,"name":"Boston Red Sox","link":"/api/v1/teams/111″,"season":2023,"venue":"id":3,"name":"Fenway Park","link":"/api/v1/venues/3″,"location":"address1″:"4 Yawkey Way","city":"Boston","state":"Massachusetts","stateAbbrev":"MA","postalCode":"2215″,"defaultCoordinates":"latitude":42.346456,"longitude":-71.097441,"country":"USA","phone":"(617) 267-9440″,"timeZone":"id":"America/New_York","offset":-5,"tz":"EST","active":true,"season":"2023″,"springVenue":"id":4309,"link":"/api/v1/venues/4309″,"teamCode":"bos","fileCode":"bos","abbreviation":"BOS","teamName":"Red Sox","locationName":"Boston","firstYearOfPlay":"1901″,"league":"id":103,"name":"American League","link":"/api/v1/league/103″,"division":"id":201,"name":"American League East","link":"/api/v1/divisions/201″,"sport":"id":1,"link":"/api/v1/sports/1″,"name":"Major League Baseball","shortName":"Boston","franchiseName":"Boston","clubName":"Red Sox","active":true,"springLeague":"id":114,"name":"Cactus League","link":"/api/v1/league/114″,"abbreviation":"CL","allStarStatus":"N","id":112,"name":"Chicago Cubs","link":"/api/v1/teams/112″,"season":2023,"venue":"id":17,"name":"Wrigley Field","link":"/api/v1/venues/17″,"location":"address1″:"1060 West Addison","city":"Chicago","state":"Illinois","stateAbbrev":"IL","postalCode":"60613-4397″,"defaultCoordinates":"latitude":41.948171,"longitude":-87.655503,"country":"USA","phone":"(773) 404-2827″,"timeZone":"id":"America/Chicago","offset":-6,"tz":"CST","active":true,"season":"2023″,"springVenue":"id":4629,"link":"/api/v1/venues/4629″,"teamCode":"chn","fileCode":"chc","abbreviation":"CHC","teamName":"Cubs","locationName":"Chicago","firstYearOfPlay":"1874″,"league":"id":104,"name":"National League","link":"/api/v1/league/104″,"division":"id":205,"name":"National League Central","link":"/api/v1/divisions/205″,"sport":"id":1,"link":"/api/v1/sports/1″,"name":"Major League Baseball","shortName":"Chi Cubs","franchiseName":"Chicago","clubName":"Cubs","active":true,"springLeague":"id":114,"name":"Cactus League","link":"/api/v1/league/114″,"abbreviation":"CL","allStarStatus":"N","id":113,"name":"Cincinnati Reds","link":"/api/v1/teams/113″,"season":2023,"venue":"id":2602,"name":"Great American Ball Park","link":"/api/v1/venues/2602″,"location":"address1″:"100 Main Street","city":"Cincinnati","state":"Ohio","stateAbbrev":"OH","postalCode":"45202-4109″,"defaultCoordinates":"latitude":39.097389,"longitude":-84.506611,"country":"USA","phone":"(513) 765-7000″,"timeZone":"id":"America/New_York","offset":-5,"tz":"EST","active":true,"season":"2023″,"springVenue":"id":3834,"link":"/api/v1/venues/3834″,"teamCode":"cin","fileCode":"cin","abbreviation":"CIN","teamName":"Reds","locationName":"Cincinnati","firstYearOfPlay":"1882″,"league":"id":104,"name":"National League","link":"/api/v1/league/104″,"division":"id":205,"name":"National League Central","link":"/api/v1/divisions/205″,"sport":"id":1,"link":"/api/v1/sports/1″,"name":"Major League Baseball","shortName":"Cincinnati","franchiseName":"Cincinnati","clubName":"Reds","active":true,"springLeague":"id":114,"name":"Cactus League","link":"/api/v1/league/114″,"abbreviation":"CL","allStarStatus":"N","id":114,"name":"Cleveland Guardians","link":"/api/v1/teams/114″,"season":2023,"venue":"id":5,"name":"Progressive Field","link":"/api/v1/venues/5″,"location":"address1″:"2401 Ontario Street","city":"Cleveland","state":"Ohio","stateAbbrev":"OH","postalCode":"44115″,"defaultCoordinates":"latitude":41.495861,"longitude":-81.685255,"country":"USA","phone":"(216) 420-4200″,"timeZone":"id":"America/New_York","offset":-5,"tz":"EST","active":true,"season":"2023″,"springVenue":"id":3834,"link":"/api/v1/venues/3834″,"teamCode":"cle","fileCode":"cle","abbreviation":"CLE","teamName":"Guardians","locationName":"Cleveland","firstYearOfPlay":"1901″,"league":"id":103,"name":"American League","link":"/api/v1/league/103″,"division":"id":202,"name":"American League Central","link":"/api/v1/divisions/202″,"sport":"id":1,"link":"/api/v1/sports/1″,"name":"Major League Baseball","shortName":"Cleveland","franchiseName":"Cleveland","clubName":"Guardians","active":true,"springLeague":"id":114,"name":"Cactus League","link":"/api/v1/league/114″,"abbreviation":"CL","allStarStatus":"N","id":115,"name":"Colorado Rockies","link":"/api/v1/teams/115″,"season":2023,"venue":"id":19,"name":"Coors Field","link":"/api/v1/venues/19″,"location":"address1″:"2001 Blake Street","city":"Denver","state":"Colorado","stateAbbrev":"CO","postalCode":"80205-2000″,"defaultCoordinates":"latitude":39.756042,"longitude":-104.994136,"country":"USA","phone":"(303) 292-0200″,"timeZone":"id":"America/Denver","offset":-7,"tz":"MST","active":true,"season":"2023″,"springVenue":"id":4249,"link":"/api/v1/venues/4249″,"teamCode":"col","fileCode":"col","abbreviation":"COL","teamName":"Rockies","locationName":"Denver","firstYearOfPlay":"1992″,"league":"id":104,"name":"National League","link":"/api/v1/league/104″,"division":"id":203,"name":"National League West","link":"/api/v1/divisions/203″,"sport":"id":1,"link":"/api/v1/sports/1″,"name":"Major League Baseball","shortName":"Colorado","franchiseName":"Colorado","clubName":"Rockies","active":true,"springLeague":"id":115,"name":"Grapefruit League","link":"/api/v1/league/115″,"abbreviation":"GL","allStarStatus":"N","id":116,"name":"Detroit Tigers","link":"/api/v1/teams/116″,"season":2023,"venue":"id":2394,"name":"Comerica Park","link":"/api/v1/venues/2394″,"location":"address1″:"2100 Woodward Avenue","city":"Detroit","state":"Michigan","stateAbbrev":"MI","postalCode":"48201″,"defaultCoordinates":"latitude":42.3391151,"longitude":-83.048695,"country":"USA","phone":"(313) 471-2000″,"timeZone":"id":"America/Detroit","offset":-5,"tz":"EST","active":true,"season":"2023″,"springVenue":"id":2511,"link":"/api/v1/venues/2511″,"teamCode":"det","fileCode":"det","abbreviation":"DET","teamName":"Tigers","locationName":"Detroit","firstYearOfPlay":"1901″,"league":"id":103,"name":"American League","link":"/api/v1/league/103″,"division":"id":202,"name":"American League Central","link":"/api/v1/divisions/202″,"sport":"id":1,"link":"/api/v1/sports/1″,"name":"Major League Baseball","shortName":"Detroit","franchiseName":"Detroit","clubName":"Tigers","active":true,"springLeague":"id":115,"name":"Grapefruit League","link":"/api/v1/league/115″,"abbreviation":"GL","allStarStatus":"N","id":117,"name":"Houston Astros","link":"/api/v1/teams/117″,"season":2023,"venue":"id":2392,"name":"Minute Maid Park","link":"/api/v1/venues/2392″,"location":"address1″:"501 Crawford Street","city":"Houston","state":"Texas","stateAbbrev":"TX","postalCode":"77002″,"defaultCoordinates":"latitude":29.756967,"longitude":-95.355509,"country":"USA","phone":"(713) 259-8000″,"timeZone":"id":"America/Chicago","offset":-6,"tz":"CST","active":true,"season":"2023″,"springVenue":"id":5000,"link":"/api/v1/venues/5000″,"teamCode":"hou","fileCode":"hou","abbreviation":"HOU","teamName":"Astros","locationName":"Houston","firstYearOfPlay":"1962″,"league":"id":103,"name":"American League","link":"/api/v1/league/103″,"division":"id":200,"name":"American League West","link":"/api/v1/divisions/200″,"sport":"id":1,"link":"/api/v1/sports/1″,"name":"Major League Baseball","shortName":"Houston","franchiseName":"Houston","clubName":"Astros","active":true,"springLeague":"id":114,"name":"Cactus League","link":"/api/v1/league/114″,"abbreviation":"CL","allStarStatus":"N","id":118,"name":"Kansas City Royals","link":"/api/v1/teams/118″,"season":2023,"venue":"id":7,"name":"Kauffman Stadium","link":"/api/v1/venues/7″,"location":"address1″:"One Royal Way","city":"Kansas City","state":"Missouri","stateAbbrev":"MO","postalCode":"64129″,"defaultCoordinates":"latitude":39.051567,"longitude":-94.480483,"country":"USA","phone":"(816) 921-8000″,"timeZone":"id":"America/Chicago","offset":-6,"tz":"CST","active":true,"season":"2023″,"springVenue":"id":2603,"link":"/api/v1/venues/2603″,"teamCode":"kca","fileCode":"kc","abbreviation":"KC","teamName":"Royals","locationName":"Kansas City","firstYearOfPlay":"1968″,"league":"id":103,"name":"American League","link":"/api/v1/league/103″,"division":"id":202,"name":"American League Central","link":"/api/v1/divisions/202″,"sport":"id":1,"link":"/api/v1/sports/1″,"name":"Major League Baseball","shortName":"Kansas City","franchiseName":"Kansas City","clubName":"Royals","active":true,"springLeague":"id":114,"name":"Cactus League","link":"/api/v1/league/114″,"abbreviation":"CL","allStarStatus":"N","id":119,"name":"Los Angeles Dodgers","link":"/api/v1/teams/119″,"season":2023,"venue":"id":22,"name":"Dodger Stadium","link":"/api/v1/venues/22″,"location":"address1″:"1000 Vin Scully Avenue","city":"Los Angeles","state":"California","stateAbbrev":"CA","postalCode":"90012-1199″,"defaultCoordinates":"latitude":34.07368,"longitude":-118.24053,"country":"USA","phone":"(323) 224-1500″,"timeZone":"id":"America/Los_Angeles","offset":-8,"tz":"PST","active":true,"season":"2023″,"springVenue":"id":3809,"link":"/api/v1/venues/3809″,"teamCode":"lan","fileCode":"la","abbreviation":"LAD","teamName":"Dodgers","locationName":"Los Angeles","firstYearOfPlay":"1884″,"league":"id":104,"name":"National League","link":"/api/v1/league/104″,"division":"id":203,"name":"National League West","link":"/api/v1/divisions/203″,"sport":"id":1,"link":"/api/v1/sports/1″,"name":"Major League Baseball","shortName":"LA Dodgers","franchiseName":"Los Angeles","clubName":"Dodgers","active":true,"springLeague":"id":115,"name":"Grapefruit League","link":"/api/v1/league/115″,"abbreviation":"GL","allStarStatus":"N","id":120,"name":"Washington Nationals","link":"/api/v1/teams/120″,"season":2023,"venue":"id":3309,"name":"Nationals Park","link":"/api/v1/venues/3309″,"location":"address1″:"1500 South Capitol Street, SE","city":"Washington","state":"District of Columbia","stateAbbrev":"DC","postalCode":"20003-1507″,"defaultCoordinates":"latitude":38.872861,"longitude":-77.007501,"country":"USA","phone":"(202) 349-0400″,"timeZone":"id":"America/New_York","offset":-5,"tz":"EST","active":true,"season":"2023″,"springVenue":"id":5000,"link":"/api/v1/venues/5000″,"teamCode":"was","fileCode":"was","abbreviation":"WSH","teamName":"Nationals","locationName":"Washington","firstYearOfPlay":"1968″,"league":"id":104,"name":"National League","link":"/api/v1/league/104″,"division":"id":204,"name":"National League East","link":"/api/v1/divisions/204″,"sport":"id":1,"link":"/api/v1/sports/1″,"name":"Major League Baseball","shortName":"Washington","franchiseName":"Washington","clubName":"Nationals","active":true,"springLeague":"id":115,"name":"Grapefruit League","link":"/api/v1/league/115″,"abbreviation":"GL","allStarStatus":"N","id":121,"name":"New York Mets","link":"/api/v1/teams/121″,"season":2023,"venue":"id":3289,"name":"Citi Field","link":"/api/v1/venues/3289″,"location":"address1″:"Citi Field","city":"Flushing","state":"New York","stateAbbrev":"NY","postalCode":"11368″,"defaultCoordinates":"latitude":40.75753012,"longitude":-73.84559155,"country":"USA","phone":"(718) 507-6387″,"timeZone":"id":"America/New_York","offset":-5,"tz":"EST","active":true,"season":"2023″,"springVenue":"id":2856,"link":"/api/v1/venues/2856″,"teamCode":"nyn","fileCode":"nym","abbreviation":"NYM","teamName":"Mets","locationName":"Flushing","firstYearOfPlay":"1962″,"league":"id":104,"name":"National League","link":"/api/v1/league/104″,"division":"id":204,"name":"National League East","link":"/api/v1/divisions/204″,"sport":"id":1,"link":"/api/v1/sports/1″,"name":"Major League Baseball","shortName":"NY Mets","franchiseName":"New York","clubName":"Mets","active":true]},"isApp":false,"isCookieNoTrackQueryParam":false,"isPremiumQueryParam":false,"lang":"en","newsletterServiceUrl":"https://us-central1-mlb-webeng-prod-39c3.cloudfunctions.net/email-newsletter","queryString":"","shareOptions":"shareUrl":"https://www.mlb.com/news/carlos-correa-discusses-health-fitness-routine","twitterHandle":"mlb","storySlug":"carlos-correa-discusses-health-fitness-routine","topicSlug":"","userAgent":"Mozilla/5.0 (Macintosh; Intel Mac OS X 10_14_6) AppleWebKit/537.36 (KHTML, like Gecko) Chrome/83.0.4103.116 Safari/537.36″,"googleTagManager":"GTM-TGJ9RZ"}}
window.adobeAnalytics = "reportingSuiteId":"mlbglobal08,mlbcom08″,"linkInternalFilters":"mlb"
window.globalState = "tracking_title":"Major League Baseball","lang":"en"
window.appId = "
/*–>*/
FORT MYERS, Fla. — Perhaps no single joint in professional athletics was the subject of more scrutiny and speculation over the course of the offseason than Carlos Correa's right ankle, about which reported concerns on the part of both the Giants and Mets eventually cost him seven years and $150 million worth of guarantees.
After Correa ultimately ended up with the six-year, $200 million deal that brought him back to Minnesota, he insisted that the ankle has felt completely fine since he underwent surgery as a High-A player in 2014 and that he was surprised that it impacted the nature of his free agency to the extent that it did.
Upon his arrival to Twins camp for his first day of Spring Training on Friday, Correa did acknowledge that his long-term health is always on his mind, with a corresponding hour-long routine for his longevity that he has developed over the years — but he feels that routine has worked well for him, and it won't change in response to the tumult of the offseason.
"Obviously, you think about it," Correa said. "There's no need to lie. You think about it. I've been playing for eight years since I had the surgery. I haven't had any problems. So I'm just going to keep doing the same things that I've been doing. I take really good care of my body. I will plan on doing that for the rest of my career, until the day that I decide to retire."
Correa has never spent time on the injured list for an ankle issue as a professional, which leads him to be confident in the routine that emphasizes flexibility and maintenance of his whole body over strength once the season starts.
During the season, Correa works for 40 minutes to an hour every day, he said, including on off-days, with a routine that incorporates work on the chest, shoulders, back, hamstrings, quads and core. He doesn't do heavy lifting at all once the season starts, hoping to avoid the soreness and additional strain on his body.
"When the season hits, I don't need to get stronger," Correa said. "I just need to be healthy. I just need to post every single day. I'd rather be flexible and not as strong but be able to post for 150 games than be the strongest guy in the league and only be able to play 80 games. It's a good balance that a player's got to have."
It hasn't always been that way for him, but his physical priorities have matured as he has also matured as a player and person. Earlier in his career, Correa said he would show up to the cage and immediately take 100-150 full-effort swings without so much as warming up and stretching, which led to unnecessary issues.
After starting to communicate more often with doctors, Correa said he took more of an interest in the functionality of his body and the emphasis on mobility and flexibility that required, and he developed his routine accordingly.
"Learning through experience throughout the entire process, something bad had to happen for me to understand what it takes to post and be healthy," Correa said. "I'm glad I found out when I was 24, 25 years old. It was still early enough for me to be able to make the right and necessary adjustments."
Beyond that, Correa spoke often about avoiding unnecessary risks and strain on his body during his first season with the Twins, so much so that the mentality stuck with fellow star Byron Buxton. The center fielder has credited Correa with helping him better understand the importance of that level of caution.
"This is no disrespect to anyone else who's in that clubhouse, but [Correa's] among the best I've ever seen in terms of preparing himself, taking care of himself, influencing others to take care of themselves in a way that is special and different," president of baseball operations Derek Falvey said at Correa's introductory press conference. "That's all part of the equation here, in a way that factored in as part of the dialogue that ultimately got us to that agreement that we think works."
The Twins saw firsthand how carefully Correa manages his body, and that's part of what gave them the confidence to bring him back in the longer term. On Friday, Correa pulled back that curtain a bit on what gives him confidence in his health — and the care he takes to preserve it.