County sale of Pahrump Medical Center draws interest, stirs controversy
5 min read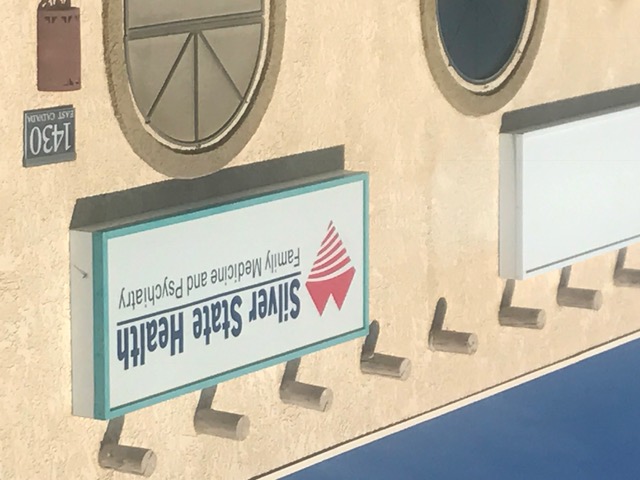 PAHRUMP – It isn't much to look at now, but some folks have big plans for the shuttered Pahrump Medical Center.
The Nye County-owned property at 1501 and 1503 E. Calvada Blvd. includes two buildings and a total of approximately 17,000 square feet. In a community painfully short of professional medical services, it holds the potential of being put to productive use.
And profitable use as well.
In its Nov. 2 meeting, the Nye County Commission voted to sell the property, appraised at $1.8 million in July, in a sealed-bid auction scheduled for Dec. 7.
Sale of the property has been a pet project and a priority of Commissioner Leo Blundo, who in a June 2 board meeting spoke about the need to provide county residents low-cost and no-cost medical services, "where if you want a doctor, you're able to see a doctor." That's an admirable goal, to be sure.
At that same meeting, the commission heard from Silver State Health Services CEO Mark Miyaoka, who made it clear his nonprofit based in Las Vegas was prepared to expand to Pahrump. In February, Silver State was notified it had received $4 million federal grant funding earmarked to provide medical and behavioral health services to communities of need.
As Miyaoka described it, Silver State in its partnership with Freedom Medical group operates several clinics that serve the homeless, veterans, and the underinsured. "In combination with Freedom Medical Group, we're doing a lot of good for the community of Las Vegas," Miyaoka said. "… We would like to come to Pahrump and offer our services to the community of Pahrump, and use some of these federal funds that have been allocated to us in federal grants and federal resources. I just wanted to open that up, that we are willing to come to Pahrump. All we would need is a facility to operate."
By remarkable coincidence, Nye County has one sitting empty. The timing was almost too good to be true.  It might also have been helped by the fact Commissioner Blundo's wife, Melissa, is associated with Silver State Health as its "Regional Director, Nye County." In an interview with Pahrump television station KPVM, she denied being paid for her services.
Miyaoka's generous offer to have the Federally Qualified Healthcare Center open an office in Pahrump is mitigated by the fact that Silver State, his comments notwithstanding, already had offices in the community in the form of a "Family Medicine and Psychiatry" facility located a stone's throw from the Pahrump Medical Center's front door.
Considering the shadow that has hung over Silver State Health Services, Miyaoka can't be blamed for wanting people to forget the past. That includes nasty litigation in District Court between the nonprofit's previous officers and board members, a legal action which produced a sworn declaration from Silver State's Chief Financial Officer Tam Nguyen.
In August 2020, Nguyen was brought in as CFO of Silver State. She had more than 20 years of experience as a financial officer and CPA with for-profit and nonprofit healthcare centers in California, much of that time spent with Marketing Group Inc.  In her review of the company's internal accounting procedures, Nguyen discovered not only a battle between Board Chairman Roosevelt Daymon and then-CEO David Ryan Linden, but also a nonprofit riddled with mismanagement and suspicious spending of millions in Medicaid funding. Her inquiry was hamstrung by a lack of receipts, payroll records, basic bookkeeping, banking records and contract information. And it didn't help that a required audit of the books hadn't been done.
"I focused on my duties endeavoring to fulfill the objectives at hand, but as I conducted my review, I noted several missing, incomplete and inaccurate items essential to the process," Nguyen wrote. "If not addressed or resolved, this would pose a detriment to the organization's audits as well as its financial viability. Moreover, I was asked to furnish an internal pre-audit status report to the financial committee of the Bord. The absence of this information or my inability to access same would make such a report an impossibility."
Nguyen eventually determined that Silver State's patient revenue of $7.8 million for 2019 was overstated by approximately $4 million.
The list of suspicious activity was long, but among the more jaw-dropping discoveries was Silver State's purchase of two Tesla automobiles, one financed for then-CEO Linden and one for previous Chief Operating Officer and CFO Doug Self.
Notable among those benefiting from their status as officers of Silver State was Erica Williams, spouse of board member Aaron Williams. Earlier this month, Aaron Williams received a 364-day sentence and agreed to pay nearly $100,000 in restitution after pleading guilty to conspiracy to commit Medicaid fraud in a case prosecuted by state Attorney General Aaron Ford's office.
Nguyen was fired for her efforts.
Cleaning up the nonprofit, which relies heavily on federal funding, is a daunting challenge.  Is CEO Miyaoka up to the task? 
In addition to his efforts at the medical company, this past year Miyaoka has been kept busy in U.S. Bankruptcy Court as an officer with Trident Holdings LLC, which does business at 5580 W. Desert Inn Road. That address, a 7,758-square-foot mansion worth seven figures, was previously owned by the late casino industry titan Bill Bennett. The property has incurred millions in liens, according to bankruptcy court documents. While its mortgage went unpaid, Trident Holdings in May 2020 received a $54,167 Paycheck Protection Loan officially for payroll expenses.
Miyaoka, Rick Saga and Robert Tanko are listed as borrowers on the Desert Inn property. Saga is associated with Silver State Health Services through 2965 Holdings LLC, according to the Nevada secretary of state. Saga is also listed as a managing member of the aforementioned Freedom Medical Group.
Saga has his own history in Pahrump as an officer with Nye Farm Tech, a licensed marijuana business. Nye Farm Tech and Saga in 2020 were investigated by the Nevada Cannabis Compliance Board for making transfers of interest in the company without informing state authorities. Early this year, the company and Saga avoided a full disciplinary hearing after admitting he violated two Nevada Administrative Code regulations and agreeing to pay a $15,000 penalty.
As if all that weren't enough, current and former officers of Silver State Health Services are being looked at by the U.S. Department of Health and Human Services Office of Counsel to the Inspector General (OIG) and its Nevada counterpart, according to multiple sources. The investigation has generated document subpoenas of the nonprofit by OIG Senior Counsel Michael R. Torrisi. 
Like the other controversies, it's the kind of thing the care provider would probably like elected officials to forget as it expands in Nye County.
Whether any of this controversy slows the political wheels in Nye County, which move in mysterious ways, remains uncertain. But the odds of the county's underserved residents walking through the doors of the Pahrump Medical Center any time soon appear to be getting longer.