East Texas nonprofit aims to lower the rate of uninsured children in Texas | Education
5 min read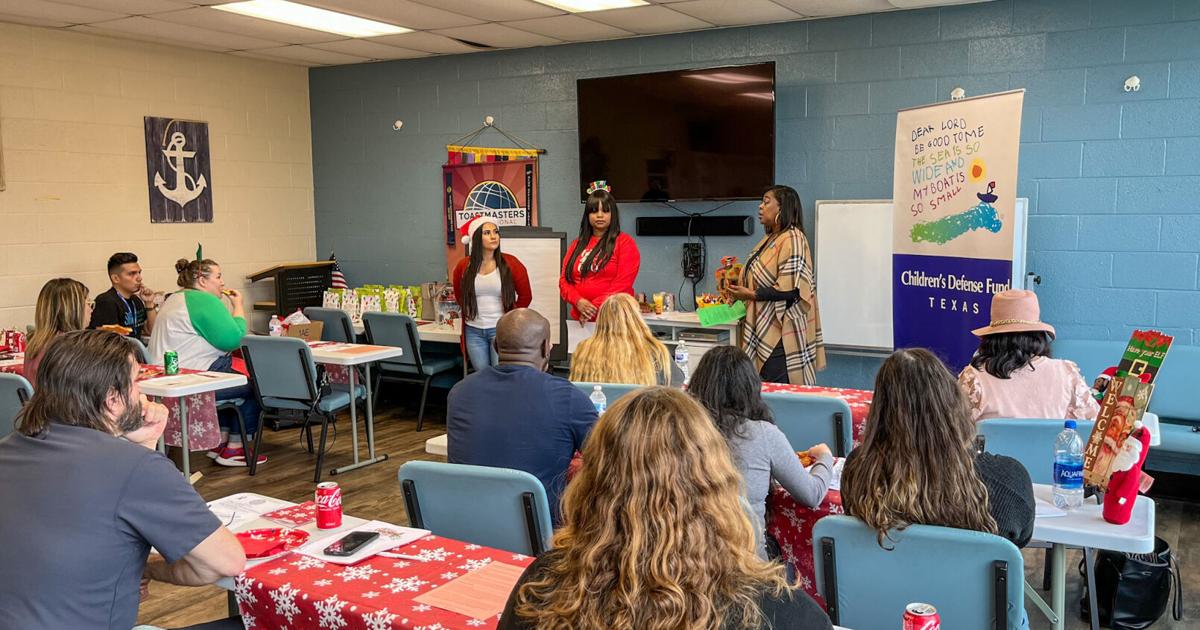 Texas is leading the nation with more than one million children living without health insurance, according to the Texas Medical Association. One East Texas nonprofit is working to challenge those rates as they try to reach as many parents as possible.
The Children's Defense Fund in East Texas shared its mission on Friday as it gathered members of local organizations such as primary school principals, leaders of after-school and Head Start programs, children's advocacy center officials and family support organizations.
The organization's ultimate goal is to ensure every parent is educated about the options available for their children, especially low-income households who need help. The defense fund's priorities include children's health, ending child poverty, youth development, juvenile justice and faith-based action.
Cindy Ross, program director, said some parents may not want to come forward and say they need help.
"Communities that they live in sometimes make it hard to say 'I need help,'" Ross said. Feedback the organization receives at local events and survey results reveals those stories.
"They come up to the table and once they find out we're trying to assist them with getting insured and we mention Medicaid, (they whisper), because they're worried about what their neighbors are saying," Ross said.
When working with a case manager from the nonprofit organization, parents can get help on filling out health insurance paperwork and are also educated throughout the process.
"If they qualify, our next job is to tell them there's a packet coming. They're going to need to pick a health plan based on their family needs and they need to pick a dental plan," she said. "Let's say they didn't qualify. It's still our job not to stop there. You have to find them a medical home because we're still trying to get that child covered."
Ross added if teachers or parents notice a child who is always missing class because they're sick, to call the defense fund to investigate further.
"It could be that mom or dad couldn't afford to take them to the doctor if they don't have insurance. Maybe that's why they're absent," Ross said.
One challenge the nonprofit organization is facing is sharing what it offers and how it can help, including getting into school districts to attend events and reach parents.
The Children's Defense Fund offers the following services in East Texas:
All Healthy Children Campaign
The All Healthy Children Campaign is a school-based child health outreach partnership that works to identify uninsured children through school enrollment forms. This connects parents to the CDF and educates on affordable health coverage through CHIP, Children's Medicaid or the ACA Marketplace.
The program continues to reach thousands of schoolchildren each year in Texas.
Pine Tree Primary School Principal Ruthie Walker, who was in attendance Friday, said the school works with families from birth, and looks to build connections with parents early on. Partnering with the Children's Defense Fund allows her to provide resources for help. 
Walker is also a doctoral student at Texas A&M University and focuses her research on the connection of public schools with resource groups at the beginning so there's a continuation of services from birth to the age of 5.
"It's not OK for kids to show up to school at 4 to 5 and not healthy and not ready for school," Walker said. 
Texas Well and Healthy Campaign
The Texas Well and Healthy Campaign is a statewide umbrella campaign that ensures the access to health coverage to each Texas child and family.
Ending Child Poverty Now Campaign
Most recent data for child poverty shows that nearly one in five children were poor in 2016, and according to the State of Texas Children Report in 2018, of the 7.4 million children in the state of Texas, 21% lived in poverty. This program educates about the Earned Income Credit (EIC) and the Child Tax Credit (CTC) to reduce the burdens on working families, and testifies on the dangers of predatory lending practices.
More programs the defense fund offers include the CDF Freedom Schools Program, Beat the Odds Scholarship and Leadership Development Program, Cradle to Prison Pipeline Campaign, Young Advocates Leadership Training Program and Faith-Based Action Programs.
Stephanie Negrete, community health outreach associate who covers the Gregg County area, said Friday's gathering of local partners was essential because it was the first time they met face to face since the COVID-19 pandemic.
"We weren't really able to do an introduction of who CDF – Texas was to the Gregg County area. We decided this would be a great time, even though we've spoken on Zoom calls and virtual events. This is a chance to get to know us on a deeper level and what our organization represents," Negrete said.
She said the ultimate goal of Friday's meeting was to work together to lower the uninsured rate for children in East Texas, especially reaching parents and guardians of primary and head start school students.
Children may qualify for CHIP or Medicaid if they are under the age of 18, are legal permanent residents, U.S. citizens or refugees, if children live with parents, on their own, or with a family member or relative, and if the household income is $52,662 or less for a family of four.
To apply, required documents include proof of identity, or a social security card, proof of income, checks or tax returns, proof of citizenship with a birth certificate, passport or certificate of naturalization, and a copy of child care expenses if applicable.
The Children's Defense Fund – East Texas has served Smith County, Cherokee County, Rusk County, Nacogdoches County, Anderson County and Gregg County since 2017 and has assisted 564 people through case assistance.
Since 2017, the organization has assisted 1,641 children with applications for CHIP or Medicaid coverage, and has helped 461 families with additionally referred services. 
To schedule an appointment for help with health insurance, contact the Children's Defense Fund – Texas at 903-253-8325.