Rafael Nadal's Diet & Workout Plan
10 min read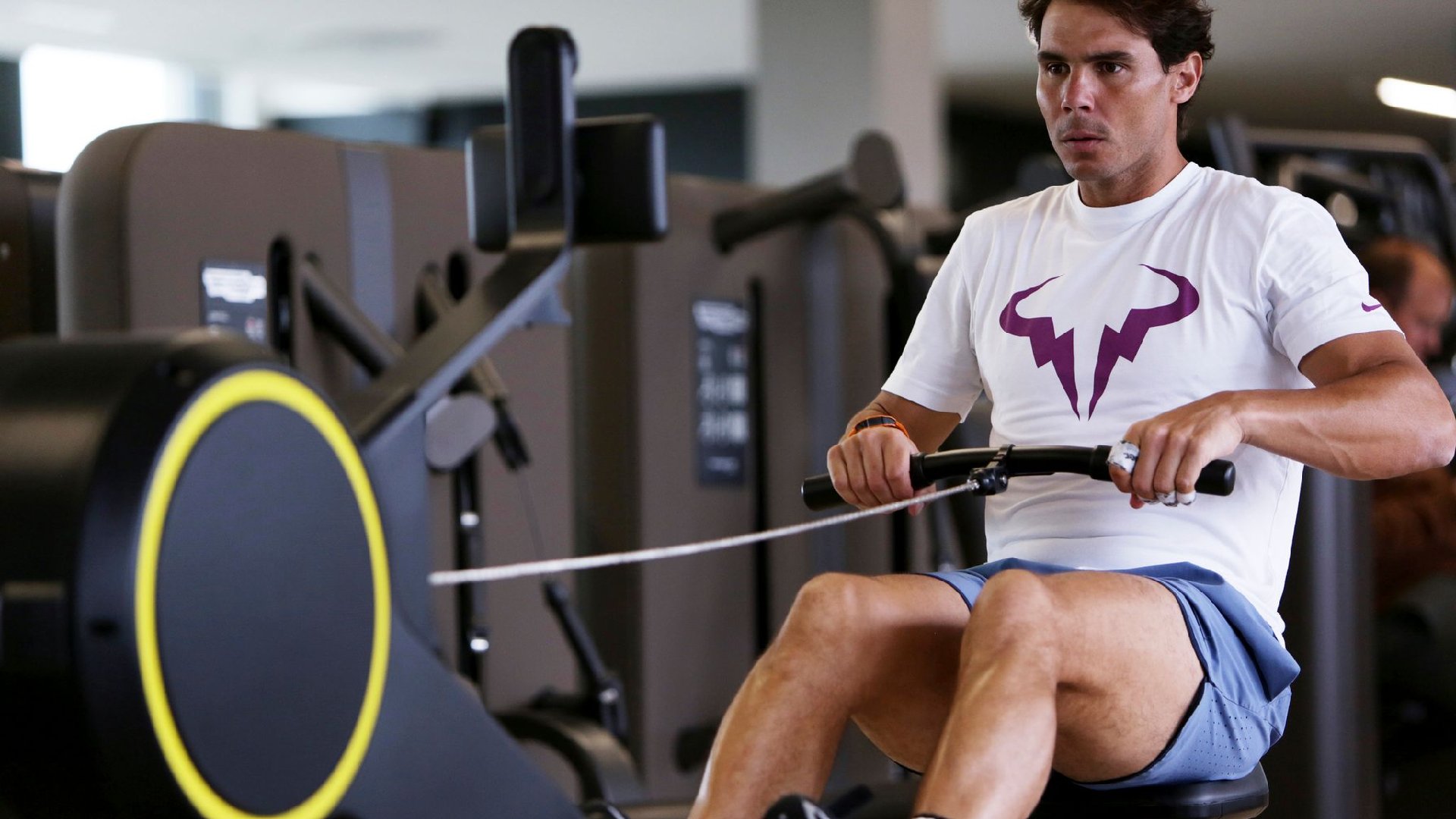 It takes a hell of a lot of strength, energy, and endurance to stage the type of comeback Rafael Nadal showcased at the 2022 Australian Open. Winning his 21st Grand Slam against Daniil Medvedev, the Spaniard made a surprising return from being two sets down despite battling COVID in December last year; as well as recovering from a foot injury that took him out for a good deal of the 2021 season. One wonders what Rafael Nadal's diet and workout plan is right now, given how he's demonstrated extraordinary resilience and, at the ripe age of 35, outlasted a world-class opponent 10 years his junior.
According to Tennis World, noted tennis analyst Patrick McEnroe was confident that Rafael Nadal didn't have a chance of emerging victorious from the Australian Open final, writing him off due to the aforementioned reasons. Nadal would go on to force a tie-break, aggressively contesting the second set against Medvedev, before eventually making tennis history as the first male player to reach 21 Grand Slam titles. McEnroe later tweeted "I learned my lesson" and went on to claim this was Rafa's second greatest win. Nadal secured the coveted Grand Slam tournament with a final score of 2-6, 6-7 (5), 6-4, 6-4, 7-5.
Rafael Nadal's Career: By The Numbers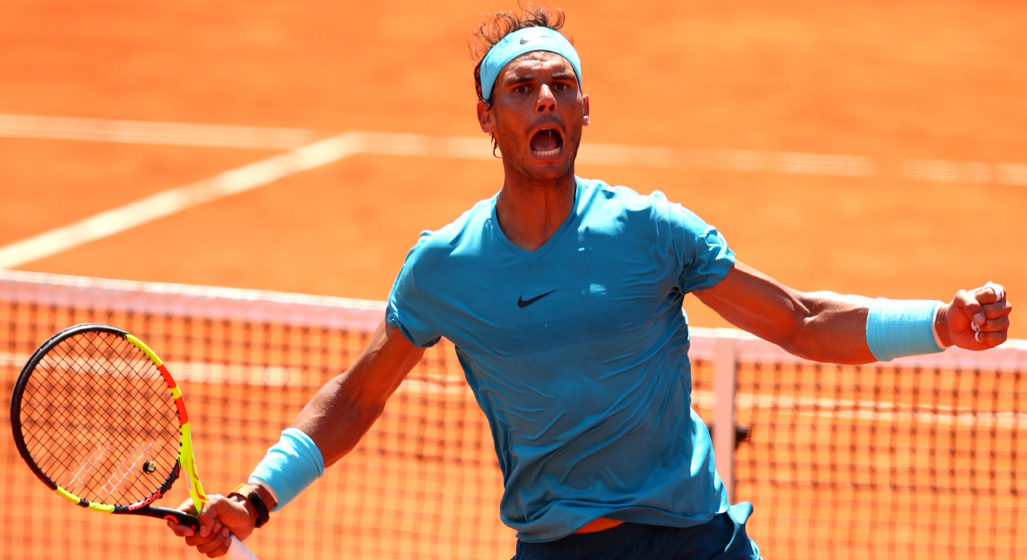 Before we take a look at what Rafael Nadal's diet and workout plan is in 2022, it's worth running through a quick-fire 'by the numbers' of Rafael Nadal's career. Nadal is, after all, known as one of the sport's fiercest competitors for good reason – a reputation built steadily from his early years training under his dad, Toni Nadal, all the way to present day.
---
---
Listing his many achievements should put into perspective just how hard the tennis icon has had to work to put up the kind of numbers that has seen him hold the world record for most Grand Slam victories for a male. That'd be 21 in total, as of January 2022 – one more than rival Roger Federer and Novak Djokovic.
Following the recent Australian Open win, the man born Rafael Nadal Parera in Manacor, Mallorca Spain has now won each major Grand Slam title twice (minimum). That consists of four US open wins, two at Wimbledon – he won his second Wimbledon title at the age of 24 – two at the Australia Open, and 13 at the French Open (also known as Roland Garros). Add two Olympic gold medals and five Davis Cup final wins to that list and you could easily see why Nadal is so admired within the sport.
But that's not to say the man is invincible. There has been many a time when Nadal missed the mark. Even though he was one half of what is widely considered to be the greatest tennis match in history – a tireless six-hour showdown between Nadal and Novak Djokovic – he failed to triumph over the Serbian prong of the Big Three. Still, being part of what is currently the longest Grand Slam final of all time should accentuate just how much ungodly stamina the man has.
RELATED: 11 Best Tricep Exercises For Men
Radael Nadal Measurements & Calories
If we're going to be talking about Nadal's workout and diet plan, it's important to take a look at what kind of baseline the tennis player is working with. At 35 years, Rafa's height is 6″1 and his weight is around 85 kg. According to Vigour Fact, he is working with a daily consumption of around 4,700 calories per day.
---
Rafael Nadal Workout & Diet Plan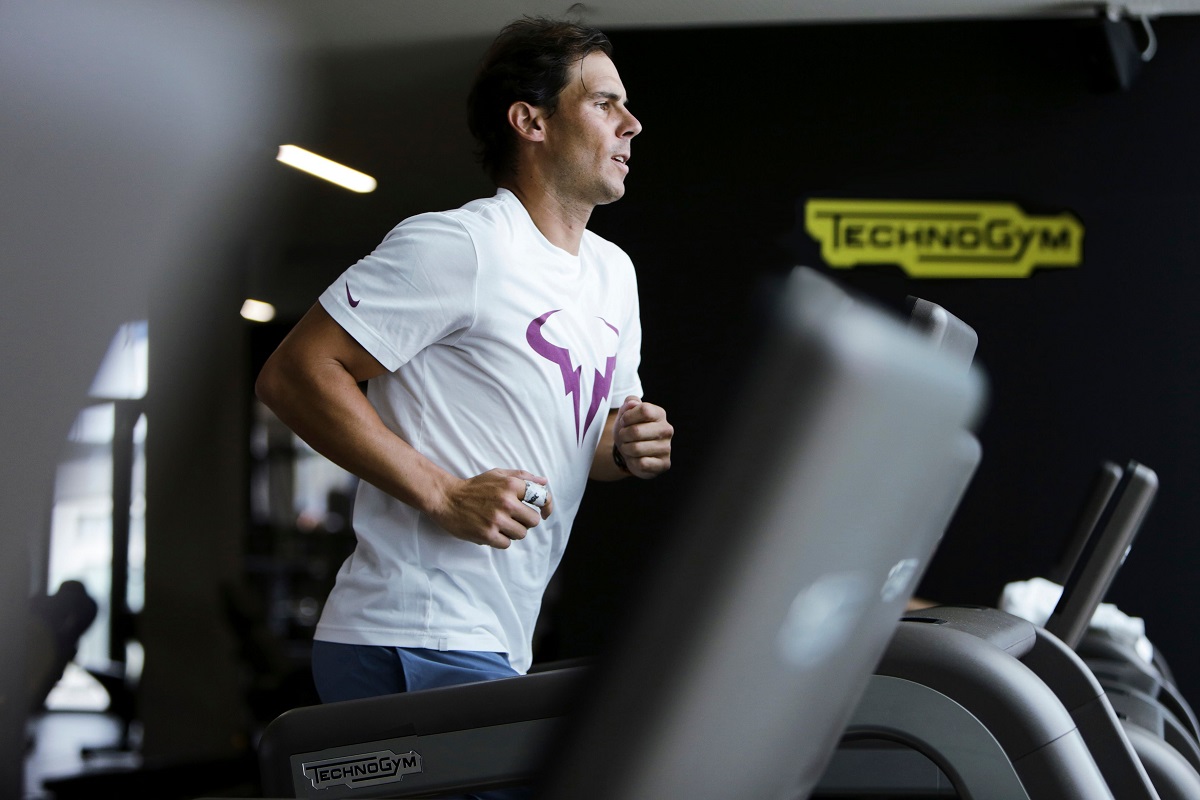 If you're through scrolling articles like this, trying to pick apart the workout and diet plans from some of the most notably fit athletes and celebrities in the world, there's a chance that you're doing so to look for shortcuts. Don't be naive. You're invariably going to gleam the same two primary approaches for each and every workout and diet plan. That'd be maintaining a diverse diet and a rigorous training program. There's no other answer if you want to mirror some of the world's most admired fitness lifestyles. Sorry, I guess.
While you may not be out there winning consecutive Grand Slam finals or putting up the same numbers Nadal has throughout his career, emulating one of the world's fittest athletes- in any sport – is never going to be a bad idea.
---
---
Of course, there are plenty of individual and environmental factors that mean you might be built a bit differently from Nadal, in which case some things that work for the man may not work for you. That much should be obvious no matter which diet and workout plan you're looking at.
Rafael Nadal's demanding workout and diet plan needs to be varied and comprehensive enough to give the Spaniard a swift advantage when it comes to not just endurance and power, but also speed, agility, and coordination. Rafa's body is also clearly advanced when it comes to recovery, so tapping into the secrets of his training regime could prove incredibly beneficial no matter who you are and what your baseline level of fitness is.
Two things are clear if you read through both Rafael Nadal's workout plan and his diet plan. First, you'll need to really enjoy eating seafood. Second, you'll ideally need to spend a few hours working on your technique and physique throughout the week, primarily by working out with weights, doing plenty of stretching, and running through plenty of exercise ball workouts.
Rafael Nadal Workout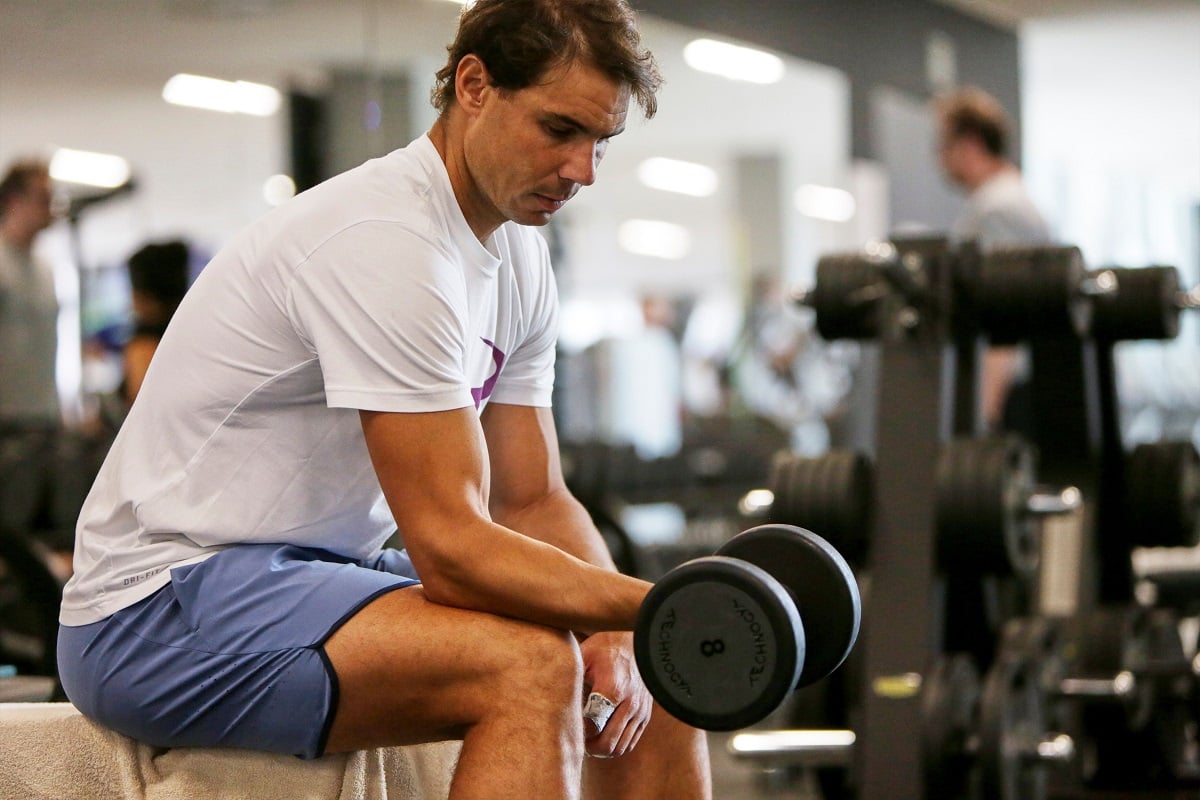 Rafa Nadal's workout has become so chiselled and distinctive over the years that for 2022, Technogym has actually created a gym dedicated to the tennis legend's training regime.
Located in Mallorca, the newly created gym has been carefully designed to reflect a diligent recovery and fitness regime with Rafa's most frequently used Technogym products including: Kenesis, which can stimulate the technical gestures of a full-movement sport like tennis; Skillrow, which is an indoor rowing machine designed to improve anaerobic power, aerobic capacity, and neuromuscular abilities; and Skillrun, which combines cardio and strength training to improve both performance and stability at the same time.
RELATED: Test The World's Best Workout Gear At Sydney's Technogym Experience Centre
Examining the gym equipment above provides some insight into what you'd need to train like Rafa, but there's much more to keeping the tennis player in top form. While the nitty-gritty of his gym workout hasn't been made publically available, there are some bits and pieces strewn over the internet to indicate how Rafa prefer to tackle his regime.
For his warm-up routine, Rafa seems to stick to his exercise ball workouts to prepare for four hours of practice per day. He'll typically hit the court just after breakfast and not leave until early afternoon, in between performing rigorous tennis-related exercises like footwork drills, racket swings, ball drills, and short sprints.
---
---
Core strengthening exercises are key during the regular tennis season, while off-season Rafa would focus more on weight training. For his workouts, Rafa would typically engage the following:
Stretching
First and foremost, the man would stretch consistently and constantly before any and all physical activity. Much like Roger Federer, it's reported that Rafa would stretch for up to an hour each morning, and again after practice. Full-body stretching helps get the blood flowing through the body and prevents jerks, injuries, and numbers.
Power Plate
Also on the cards for Rafa's warm-up routine is the power plate. In case you aren't familiar, a power plate is a vibrating platform that helps the muscles contract at high speeds, helping with blood circulation, range of motion, and muscle strength, while also reducing pain and boosting recovery. He'll generally return to the machine various times throughout the day to offset any damage done to his muscles by his workouts.
Resistance Bands
Given tennis relies on varying bursts of movement and energy throughout a match, Rafa has stated that keeping the muscles spry and agile is essential. Resistance bands are a significant help here, and Rafa engages in various resistance band exercises to apply weight and pressure to the muscles and joints during training. This obviously helps boost mobility, which is why pretty much every tennis player would view this as non-negotiable.
Core Body Workout
You absolutely need a solid core if you're going to succeed in tennis, given that it's essential for balance, stability, and stamina. While there are plenty of core body workouts available, Rafa seems to prefer standing sit-ups with resistance bands, push-ups, pull-ups, and a variety of medicine ball exercises including balancing acts and ab workouts.
Weight Lifting
As mentioned above, Rafael Nadal prefers weight lifting during the offseason to help him work on weaker muscles and keep his body in shape. Reportedly, he'll set aside an hour or two at the gym when a tournament is approaching, typically performing bench presses, trap pull-downs, leg extensions, and bicep curls.
Bodyweight Training
While Rafa is at the gym, he'll also incorporate bodyweight training into his regime, primarily to help give him the core strength necessary to keep swinging the racket and jumping to hit the ball. Notable exercises he'd engage in include pull-ups, push-ups, standing sit-ups, squats, and lunges. Whenever appropriate, he'll use a medicine ball or a resistance band to help up the intensity.
Other Exercises
Rafa also works on other muscles during his daily routine, mostly performing front bends which are essential to his needs given they work up the muscles in his hamstrings, legs, and back. Parallel bar dips are also used to target these muscle groups alongside the standard pull-ups and push-ups.
RELATED: 10 Best Shoulder Exercises For Men
Rafael Nadal Diet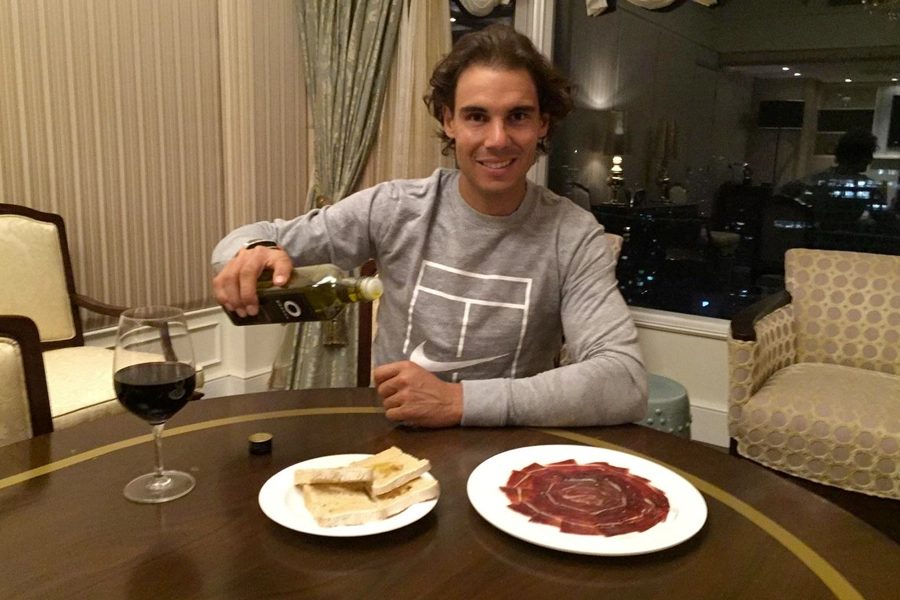 The clay-court master centres the bulk of his entire diet around seafood. In over a decade since he first started dominating the tennis world, that hasn't changed. Whether it was his third title or his twenty-first, Rafa would always be praising the importance of a seafood-rich diet to the media.
As such, if you can't stand the taste of fresh seafood, it's unlikely Rafa Nadal's diet would be for you. It's not an overly restrictive diet, however, given Rafa has frequently expressed that his personal favourites include paella and chocolate. But he does understand the need for self-control, given he was quoted once saying: "You eat paella every day, you cannot play tennis."
The type of seafood Rafa would eat almost daily includes steamed fish and shrimp dumplings, as well as filtered seawater usually consumed post-match to replenish salts.
Rafa seems to shy away from the trend of intermittent fasting and usually enjoys a rich breakfast that looks as delicious as his occasional dinner of seafood paella.
Pieced together through various social media posts, some details of Rafa Nadal's diet is as follows.
Breakfast
Fresh Bread: Rafa will typically include some freshly baked bread with his breakfast, heaping on the carbohydrates to store energy throughout the day.
Olive Oil: Given olive oil is rich in antioxidants and monosaturated fat, Rafa seems to enjoy a good drizzle of olive oil with his breakfast.
Iberian Ham: Rafa's Spaniard roots are obvious whenever he chucks some Iberian ham on his breakfast menu.
Orange Juice: The classic way to get some Vitamin C in the diet is always some freshly-squeezed orange juice, and Rafa seems to be drinking a glass each day.
Lunch
Fish: Nadal's well-documented love of seafood would usually come around in the afternoon, mostly taking the form of steamed fish on most days.
Meat: When looking at any diet in the world, variety is always going to be the most important. You want to keep your body on its toes, after all, so occasionally Rafa would switch things up by replacing protein from seafood, with protein for meat. It's unclear on what type of meat Rafa would usually go for it, but a safe bet is always the standard chicken breast.
Olives: "I love eating olives. They're healthy, but maybe not if you eat as much as me." Consider olives a guilty pleasure for Rafa, who has professed his love for olives to the media as much as he has for seafood paella and chocolate.
Fresh Veggies: A staple for any diet really. Rafa regularly includes fresh vegetables in his diet, and from a few Instagram posts throughout the years, it seems leafy greens are his go-to.
Cannoli: Rafa's hatred of cheese is as noted as his love of seafood. So it's surprising to see ricotta-laced cannoli appear in the tennis legend's diet. Regardless, he has been seen on a few occasions to include cannoli in his grocery shops, leading us to think that Rafa likes to indulge on occasion.
Dinner
Paella: As above, Rafa isn't exactly eating paella every night, but it's clear the man has an undying love for the seafood paella that's so integral to Spain's culinary identity.
Shrimp Dumblings: Again, as mentioned above, Rafa has a serious love of shrimp dumplings. It seems the man loves all types of Chinese food in general, but he has stated to the press before that shrimp dumplings are a major go-to.
Chocolate: Rafa doesn't seem to indulge in sweets too much, but when he does it seems he'll more readily reach for a chocolate bar as opposed to a cake or some confectionery. He's never gone public in stating just how much chocolate he eats, but it's obvious the man treats this craving with a sense of restraint.
Cocktails: Rafael Nadal used to be a brand ambassador for Bacardi, so it's not surprising to see at least some form of alcohol sneak its way into his diet on occasion. Rather than whisky on the rocks or a beer, it seems Nadal favours a well-built cocktail to help him take the edge off at dinner. Much like chocolate, it's reasonable to assume Rafa keeps his love of cocktails limited.
Pre- & Post-Match
Not that this is exclusive to Rafa, at all, but the man makes sure to consume a mix of sports beverages and water during matches.
After each match, Rafa has been known to down a protein shake – standard – but also some filtered seawater to help feed some essential nutrients back into the body.