YMCA Healthy Kids Day celebrates 30 years | Local News
5 min read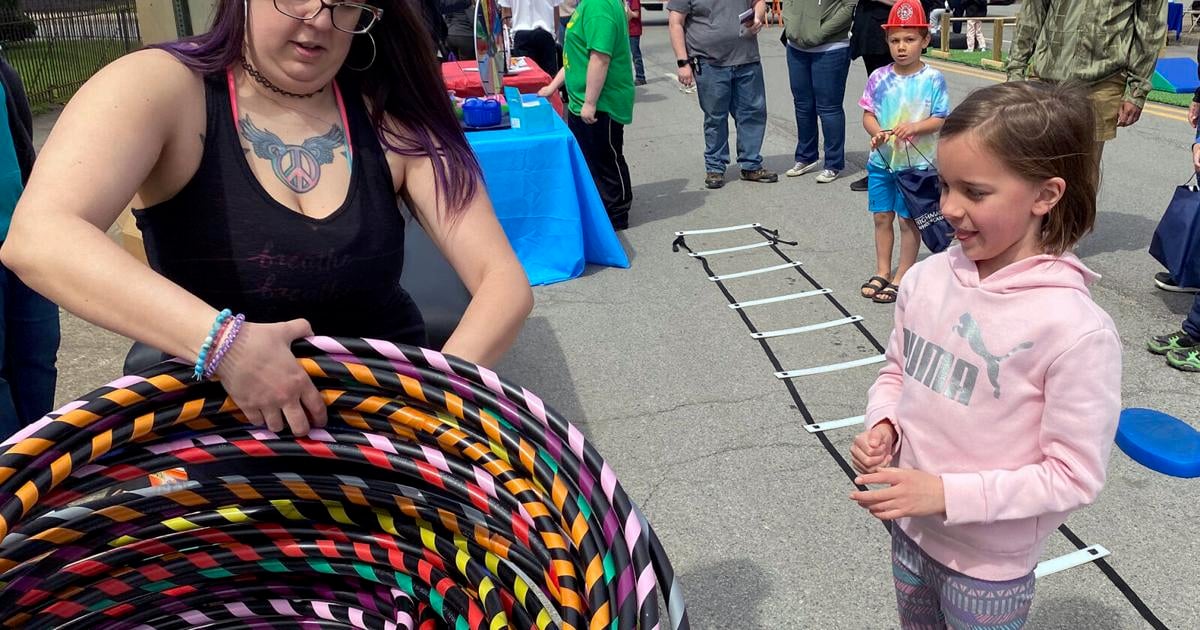 This isn't your parents' Healthy Kids Day.
Although the international YMCA observance turned 30 this weekend, Saturday's celebration in front of the local Y on West Washington Street likely was quite different from any that parents who brought their children had attended.
"It's just a way of bringing the whole world together in the spirit of the Y," said Michelle Swogger, the Lawrence County YMCA's community outreach director, who hasn't been around for all three decades of the event, but who has left her impact on it nevertheless.
"It's really changed because when I took it over, I sort of exploded it," she said. "I just wanted it to be a big celebration. So I made it a community event, rather than just a YMCA event — not that a YMCA event alone is not significant, but I feel like when you pull a crowd together, you might as well take advantage of it as much as you can."
Healthy Kids Day continues to evolve from year to year, with Swogger saying that out of Saturday's nearly 30 vendors, four or five were new to the event.
"Even though it is Healthy Kids Day, and it is fun, there's a meaning behind everything that each vendor has," Swogger said.
Allisyn Wolfe, director of mentoring programs at Cray Youth & Family Services, was handing out 20-ounce water bottles at her table. The bottles featured the logo of Cray's Compeer Youth Mentoring Program, a 1-2-1 evidence-based initiative that encourages youth who are at-risk of developing social, emotional and behavioral issues to build self-confidence, self-reliance, and healthy relationships.
Water, Wolfe said, helps, too.
"Hydration is actually key to good mental health, which is what our program is about," she explained. "Drinking enough water is linked to not having depression, and to symptoms of anxiety and depression going down."
Hydration is something youngsters likely would need after stopping at Ally Fulena's booth. Fulena, a realtor with Berkshire Hathaway, also is a member of Lawrence County Flow Collective, a hula hoop performance group. She was giving away hula hoops to any child who wanted one.
"I make them all; these are all handmade by me," said Fulena, who started hula hooping 10 years ago. "I come around and give them to kids on Healthy Kids Day to get kids up and moving. They get to pick whatever color they like.
"It's a big hit. I do it every year. The kids love it. You'll see them all around. There's hula hoops everywhere."
The day's other activities included climbing through a miniature obstacle course, visiting with therapy and search-and-rescue dogs, creating tie-dyed shirts with help from Arts & Education at the Hoyt, making giant bubbles with oversized wands, playing various games, getting free smoke detectors from the American Red Cross, taking a bicycle safety test with Noga Ambulance, and eating pizza from Pizza Joe's.
Also on site were a variety of vehicles, including motorcycles and cars supplied by Kdogs Kidz Mission, the aforementioned Noga ambulance, a New Castle Fire Department truck, the New Castle Public Library Bookmobile and, of course, the Y on the Fly van.
The van is the cornerstone of a program that sees the Y take games and activities to various parts of the county during the summer months. But, Swogger said, it will also be a vital part of a new Y outreach.
"We have our brand new Birthday Parties To Go program with our Y on the Fly van," she said. "We bring yard games, outdoor games to your home, or your place where you want to have a birthday party, and we supply the fun.
"We have a birthday program here, where people can rent the pool, and we also have a birthday program at the Y-Zone where they rent the basketball courts and such. So we said, let's go ahead and do one where they can rent the van and have some yard fun."
For more information about either the Y on the Fly or Birthday Parties To Go programs, contact Swogger at (724) 658-4766, extension 212.